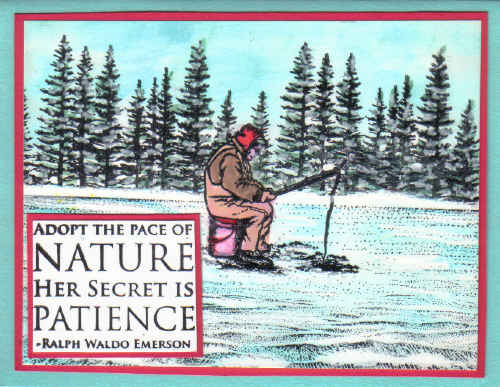 Scene by Verna Angerhofer 2009
While cleaning I got to thinking that I don't think I have ever seen ice fishing depicted in any of the scenes or if any, very few. So I decided to go ahead and make a scene with mostly Stampscapes images except for the Ice Fisherman which is made by Sutter Stamps. In fact, it is a stamp taken from a photo of my hubby. I have also attached the original picture of my husband and that is a great inspiration to try and get the scene just right.
I used white glossy paper and first stamped the ice fisherman image. I then made a mask for him and then stamped the icey lake with Black Staz-on, using the Seaside Cove. Next I took Pine Row and before inking it up, took masking tape to cover the grass below the pines. I then inked up the image, removed the tape quick before stamping my tree line. You will notice where I removed the tape it looks like a bank of snow. I did this twice...but be sure to remove the tape before adding the stamped image to your scene or you will have a big black patch. LOL I then stamped the saying from Scenic Sentiments Sheet #5 31B on seperate glossy paper. I colored the scene in using sponges and markers and also added more snow with a white Galaxy Pen to the lake and the trees. To finish the card I simply layered it with red cardstock on both the scene and the saying and added it to the blue base card. The saying I chose truly indicates what it takes to do ice fishing...PATIENCE!
Stamps included: Seaside Cove-139H; Pine Row-150E; Scenic Sentiments Sheet#5 -Set 31B; and the Ice Fisherman from Sutter Stamps. -VA