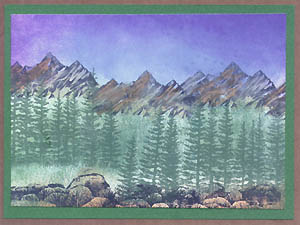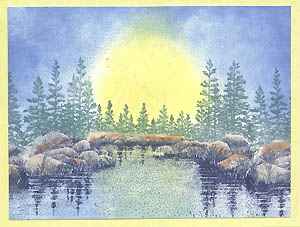 "Dusk & Dawn" by Lori Bame, SD 2000
Images: Rocks from Lakeside Cove Lg 049G, Rocky Peaks Sm. 211C, Pine Row 150E. Bottom Scene: Lakeside Cove Lg 049G, Cloud w/Sun 107E.
Media: Designer Inks, Marvy Markers.
Note: There's a nice usage of warms and cools in these two scenes. These two scenes were made for the Stamper's Den "Stampscapes Drawing" held on June 10th, 2000. Three Stampscapes certificates were awarded to those whose names were drawn --each entry received one "ticket" in the drawing. The Stamper's Den is located in Watertown, SD.