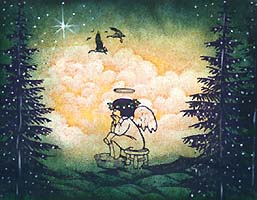 "Let The Spirit Move Ya!" by Pam Berranyai, IN 1996
Medium: Dye based colours, Glossy Paper, Opaque White Paint.
Stamp Credits: "Angel" by company unknown, "Large Pine" by A Stamp In the Hand Co., Ledge 054F, Cloud (Cumulus) lg. 019G, Geese In Flight 039A, Tonal Applicator 084E, by Stampscapes®.
Note: I love the richness of the color saturation in this scene. The colors are *deep*. Also, what really keeps my attention is the free brushed white highlights on the Pines and the bright star in the sky. I use a lot of dots in my scenes but I love the white strokes that Pam's done in here. There can be a static nature to stamp scenes at times because of the nature of the medium so I really like seeing free form marks in scenes to give a sense of gesture and freedom in the compositions. The slight orange tinge to the cloud is a nice complement to the deep rich hunter greens.