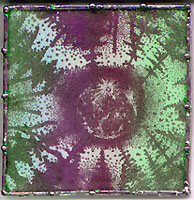 "Skyline" by Robin Beam, MD. October 5, 1997

Images: Pine Trees by A Stamp In the Hand Co. Full Moon Lg. by Stampscapes®.
Note: I couple years ago I was one of the instructors at the Trifles (in MD) Stamp Camp. Robin, from Trifles, made this interesting construction in a class there that weekend. If it isn't apparent from this scan, the piece is actually three dimensional in the frame. I'm not sure if it's solder or what but it holds a piece of glass over the stamped work which is iridescent and sparkles when it catches the light. Anyway, she gave me the piece as she used the full moon and one of my images from A Stamp In the Hand Co. I was just going through my old teaching supplies recently (12/99) and I found it luckily. Finally, this piece makes it into the gallery. Thanks Robin.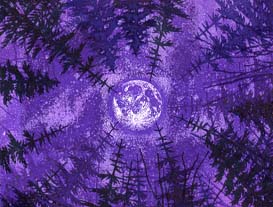 Robin Beam, MD