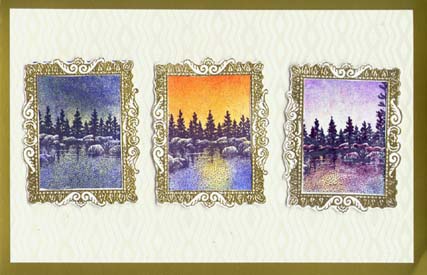 "Changes" by Sue Bell 1998
Through the day and through the year the scene changes.
Sunset and Autumn bring golds, oranges, and yellows.
Twilight and Spring bring greens and blues.
Early morn and Winter bring the cool greys, blues, and purples
with the falling snow quietly covering the silent earth.

Images: Frame by Stampington. Lakeside Cove Lg. 049G by Stampscapes®.
Note: This scene was for the "After Kevin's Chat" Stampscapes swap. The theme was variations on a composition. What a great solution by Sue and what a nice poem to accompany her piece.