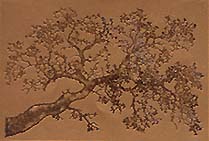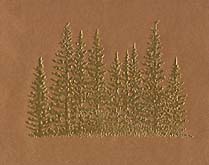 "Golden Pines Triptych" by Susie Bennett, NY 1999
Images: (from top to bottom) Oak Branch 203G, Pine Row 150E, Lakeside Cove 048E.
Note: these scenes were achieve by metallic embossing powders over metallic toned papers. They were made even more effective with her usage of metallic paper framing in silver against a glossy black card stock except my scanner read the silver as a weird black. A clean, simple and elegant look.