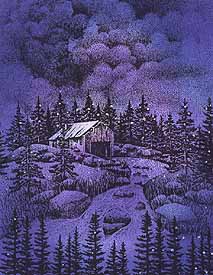 "Frosted Purple" by Carol Campbell 1997 / Images by Stampscapes.
Colours: Dye based inks.
Note: This scene is a deceptive simple on the surface. While hues remain limited there is a richness that the blues,and violets mix to form. Overlapping and layering of tones creates subtle variations across the surface. Leaving the "Old Mill Lg." stamp's roof light --by not stamping tone over it-- creates a light source and focal point to the scene. An opaque white paint pen was used to highlight certain branches along the treeline both in the front and in back of the mill. This creates a "sparkle" to the scene and adds that "extra touch". A very simple yet elegant piece.