This interview was done on Jerry Geary-Cordova in 2004 by Kevin Nakagawa via email.
Jerry's ability to capture the essence of light, in his evocative sky theme scenes, has always piqued my interest. I had asked Jerry if he would like to do an interview for the gallery section and he was a little shy --often with artists. I persisted (gently) on this one as I thought it would give the visitors to his galleries a greater insight into his approach and thoughts when it came to these unique works. I think you'll really enjoy reading about Jerry, his theories, and process. I'd like to thank Jerry for sharing his thoughts here with us and for sharing his works and teaching his methods over the years.
KN: Tell us a little about yourself. Where you grew up? Where you live, etc. Any hobbies / pastimes other than the creative / visual arts?
JG-C: I was born in Denver,Co. I was raised in a Denver orphanage since I was 6 months old. At age 11 Catholic Charities move me to Boys Town, NE where I finished my High School years. In 1960 I moved back to Denver,Co. I married my beautiful wife Deirdre in 1997. I'm 60 years old. We have two cats, Jake and Tasha, that we got from the Dumb Friends League 12 years ago.They are great cats, friendly and loveable, and mannered. We live in Roxborough Park in Littleton CO which is at the base of Pikes National Forest.
KN: How about your creative history? Have you done or do other visual arts or crafts?
JG-C: I recently found out that some of my artistic ability comes from my mother. Some of the other things I like to do are drawing, Bob Ross oil painting, scrap booking, making things with Polymer Clay, and of course, Embossing and Rubber Stamping. I like camping, fishing, walking, bike riding, bowling, and Country Western Dancing. I like watching some sports! I haven't done too much of the outside things lately, though!
KN: How and when did you get into rubber stamping?
JG-C: I got into rubber stamping one Christmas time, when Deirdre and I were shopping at a mall. We came across a stamping kiosk and watched them demo. I thought "Whoa, this is really something I could get into." They had all these shelves full of stamps, I was just so amazed, the gears in my mind started moving. The first stamps I bought were a white birch leafless tree and grass, and a couple of other stamps, ink pads and Le Plume pens. I was so amazed I came back for the next 4 days and bought more stamps, some were Stampscapes. Now I'm thinking how I can stamp sceneries, since I'm not a artist. Kevin's art work ( Stampscapes) does it for me. I really got into more stamping about 1993. I took stamp classes 101 and 102 at a store called Happy Stamper's, as well as many other classes. I've taken a few of Kevin's Stampscapes classes, when he comes to Denver. The first one was at Happy Stampers! I learned a lot, like what colors to use,and what to look for when doing your picture. Kevin has been a big part of my successes.
KN: When you approach your scenes,what do you feel you're going after in a scene? What is your process? Do you do roughs or sketches or do you just go straight into it? Do you have a medium of choice?
JG-C: When I start a scene, I think of a place I've seen or been, or a place I'd like to be! Sometimes rugged, sometimes peaceful. They're usually away from the city where I can just hear and see nature. I'll stamp a few scenes using Designer Inks, Black- out- liner on King James gloss coated card stock. Sometimes I'll go straight into it. I use Vivid Inks for my skies. I found I like Marvy Matchable pens and Dove Blender for my background and foreground colors. Memories Black pad for my accent stamp. I also use Color Box pigment ink, white. I got this idea from Kevin. I use stick chalk and color pencil for other scenes.
KN: Is there a particular time of day that you stamp? Where do you stamp? What is the ideal situation for you-- ie. Do you like having music on? TV? Silence? Solitude? Company?
JG-C: I do most of my stamping on Saturday Morning! Occasionally, I'll stamp in the evening during the week. I have a little working area in the corner of our basement. I have around 450 stamps! My wife says it's at least double that but we haven't counted lately! A lot are Stampscapes. I like working in solitude when I'm stamping, and on other projects. I like a little soft music.
KN: You have an highly unique approach to the dazzling skies you create. Your nickname is "The Sky Guy". I'm guessing you're probably a fan of sky imagery- atmosphere and optical phenomena before you even started stamping? Tell me about this. What do the skies do for you personally?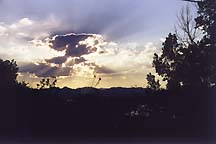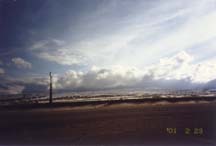 JG-C: I really like the skies. My wife and I go to the Planetarium and learn about where the stars and planets are for each month. We also hear how the Nebula, Galaxies and Constellations change positions in the sky. Once a year the planetarium has a camp out in the mountains at Mt. Evans Observatory to watch the Perseid meteor shower during the night. We have the chance to look through the many telescopes they have. It's fascinating! Watching the sky go through changes like different days, different skies or different times of the day. Gaylene, the shop owner of Happy Stamper at the time, was the first one to call me " Sky Guy ". She always wanted to see the different ways I did my skies. I got those beginning ideas from the actual sunrises I saw on my way to work early, early in the morning. The name stuck since, especially since I've concentrated on skies.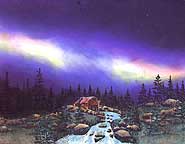 KN: I just happened to have four scenes of yours that you gave me at the Denver convention (1992). They're all between sunset/ twilight to night. I find that in my own work this is the case 90% of the time. Are these times of the day/night indicative of the vast majority of your scenes? If so, why do you think that is?
JG-C: The big majority of my scenes are early and late evenings. I like sunrises too. I feel these are the best time to see the skies change colors. I can see the colors in your art work Kevin, and what it does to them. I'm the same way. The sky colors makes the picture for me.
KN: Does one (or more) scene (s) stand out to you in particular? A favorite or otherwise? What is it about that one that brings it to mind? What happened in that scene?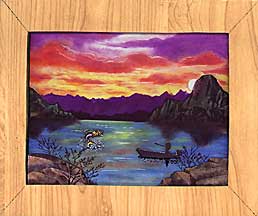 JG-C: Most of my pictures have someplace in mind. Many are actual places Deirdre and I have vacationed. But one does stand out. The picture " Good Time to Fish ". It's at Navajo Lake Reservoir down by the state line. It actually is in both Colorado and New Mexico. New Mexico has the majority of the lake. We were told the lake is 35 miles long and 15 miles wide. We camped there over the 4th of July with our tent and boat. The first full day we took our small boat out and rode around the lake looking for a good place to fish. I had bought a electric trolling motor from my son's friend, and talk about an "oops". I had the motor in the water when I left the "no wake zone". We were cruising on the lake about 25mph when my wife said "look at the trolling motor bouncing around." When I slowed down to stop, the waves behind me caught up with us and knocked the trolling motor right off our boat and into the water! It was a ways from us, and we watched it sink, and sink quickly! So much for trolling "huh." The whole time we were there we didn't catch a fish! But, it's a great spot and we had a good time!
KN: I know you're an instructor. When did you start teaching? Where? What are the names of your classes? What do you cover? How do you like teaching?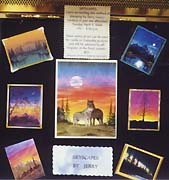 JG-C: I first became an instructor back in 1994. I had just started developing my skies (not quite like what they are now). I had shown some of my pictures to Gaylene (owner of Happy Stamper). She really liked them and asked if I would be interested in teaching my technique using her Stampscapes stamps. So, I started having classes every 2 weeks on Saturday mornings, 10am to noon. In 1994 I used make-up sponges for my skies, and now I use the Color Box Stylus. My classes are called "Skyscapes." I teach basic skies and advanced skies. The "Basic Skyscapes" class covers what kind of tools I use, inks I use, types of card stock, and how to use the Color Box Stylus. I show my students step by step how-to. We complete about 3 cards. When we finish they're amazed at their own work! It looks hard but it's not. My students have told me it's easier than it looks.
I teach the "Advanced Skies" pretty much like basic to start, then I show the students how to use the Color Box Stylus in various different ways, and how to design with it. I spend time masking, how to decide what colors to use. I mention how I learned so much from you, Kevin, and using your Stampscapes product. A lot of my skies revolve around Stampscapes. Normally we finish one picture in the advanced class. Sometimes, depending on how experienced they are as stampers, we can get two pictures done. It takes more time to stamp your scene, than it takes to do the sky. I like teaching, because I like sharing my technique. I have a good time with my students and I'm very patient. I've also done demos at the Denver and Fort Collins stamp Conventions, and had a great time! I demonstrated for Stamp World and Colorado Stamp'n. I don't teach much anymore, too busy working and the times don't work out.
KN: What direction has your stamping gone from the time you started to now? Are you moving in a particular direction with your work?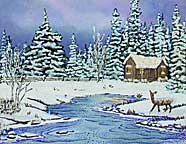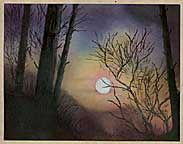 JG-C: Since I started stamping I have progressed immensely over the years. I'm working to make my scenes more and more realistic. I've been using with chalks, Radiant Pearls, Shimmers (paint type products for stamping) and working toward water colors.
KN: Is there anything else we didn't cover that would illuminate the viewer as to additional insight into your work?
JG-C: As a stamper and instructor, Kevin, I think your Stampscapes products, the Gallery, and website is so beneficial to all of us. Your Stampscapes product is so unique and so versatile. In the Gallery, we can see the work of others and it gives us ideas for our own. I hope anyone who views my Skyscapes scenery enjoys what they see. I always like to hear from other stampers. Feel free to share your comments and thoughts anytime through email.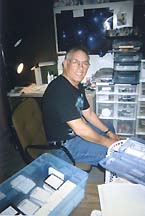 Jerry Geary-Cordova
" The Sky Guy "