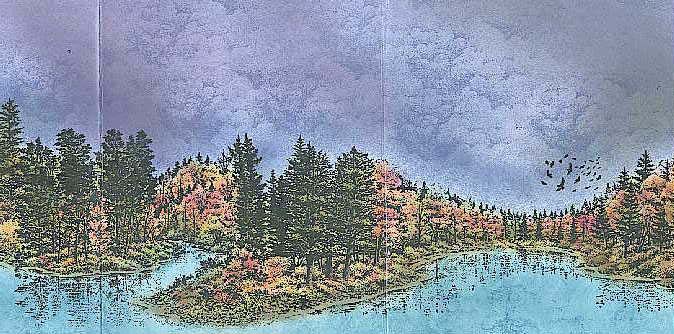 "Accordion Card" by Cindy Smith. Mesa, AZ 2000
Size of Original: 5" X 6" that expands to 6" X 22 1/2"
Images: Geese by PSX. Autumn Brook 212G, Autumn Bank Left 213G, Autumn Bank Right 214G, Cloud Cumulus 018E, Row boat166A by Stampscapes.
Materials: White glossy paper, dye based inks, tonal applicator 084E, stencil, stipple and detail brushes.
Artist's notes: Originally the large piece entitled "Indian Summer" was be made into an "accordion" style card. After completing it, I just couldn't make myself fold it ----so---- I ended up putting it in a frame and making this similar piece to fold.