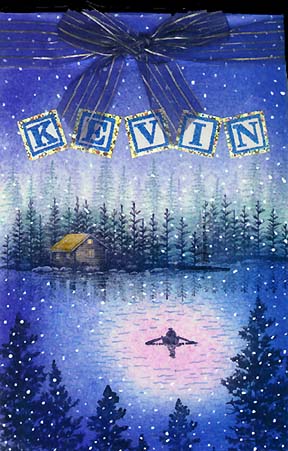 "Lakeside Winter" by Mary R. Donna of Heartlands Stamp Affair, IL 1999
Images: Lakeside Cabin 147F, Pine Row 150E, Spruce Tree Lg 078F, Row Boat 166A.
Note: Mary has really created a scene that's both peaceful and festive in feel. She sent me this scene which has been made into a notepad cover --a *very* fancy notepad cover. Thanks Mary. The white dots really add to the overall look of the scene by adding texture, contrast, depth, and whimsy. A great looking scene.
Stampscapes® can be found at:
Heartlands Stamp Affair
126 N. Vermillion Street
Danville, IL 61832
(217) 442-3700