This interview was done with Linda Ellenwood in February 2000 by Kevin Nakagawa via email.
There's a place in sports they call "the zone". It's when an athlete, in whatever given event, seems to reach a level of such heights that it seems like --for that given span of time-- everything seems to flow in perfect rhythm. In music it could be where the musician knows a piece so well that the notes are no longer conscious and they can "groove" with the piece. In art it can be where a person becomes completely lost in their work and where time seems to just fade away. It's where technique becomes effortless from hours of disciplined practice behind them. I've admired (and been very curious about) Linda Ellenwood's pieces for a long time now as highly accomplished works in whatever technique she was utilizing at the time. One can see, in her pieces, a level of refinement and this effortless effort where all great work originates. I hope you'll enjoy this article on this highly skilled and innovative artist.
KN: Linda, thanks for agreeing to this. I like to start out these little gallery profiles by asking the artists to tell us a little about themselves as a general background ~where you grew up, family, etc.
LE: I grew up in the Toledo, Ohio area. I have 2 brothers and 2 sisters. We are as close as time allows. We are all very different but we are very kind people. I've lived in the same area all my life. I'm 51 years old and very happily married to the same man for 31 years. I have 2 sons and 6 grandchildren. For the last 3 years my son and now 8 year old grandson live with us in a house that is too small for all the fun things we want to do.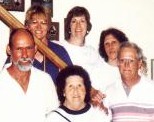 Linda with her siblings. Clockwise from top left: Linda, Kathy, Terri, Bill, her mother Ann, Bob. Right picture: her husband George.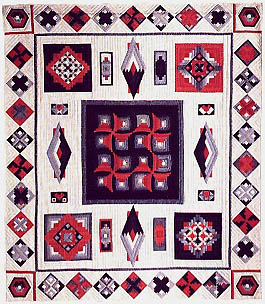 KN: How about your creative and/or interests history? What have you enjoyed doing through the years --art, hobbies, crafts, interests in general?
LE: I've always been obsessive about whatever I'm doing. Before rubber I did a lot of quilting and had a quilt chosen to be in the National Quilters calendar in 1995. That was very exciting to me. The only drawback to contemporary quilting is that it takes so many hours to complete one idea. My oldest son moved back home and quilting was packed away "temporarily" because of room. Then I was introduced to rubber stamps and never went back to quilting. Sewing had been my thing for 30 years. [Quilt to left was chosen to be in the National Quilters calendar in 1995. The title "Anxiety"]
KN: How and when did you get into rubber stamping? Also what was is it, specifically, about rubber stamping that placed it in your pastime(s) among all of the other arts/hobbies/crafts out there? What was your work like in the beginning and what different media/accessories did you use? How did your interest in the medium develop?
LE: I got started rubber stamping when my mother wanted to take a class in beginning stamping, the class was at night so I went with her just for the fun of taking a class. The timing was perfect. I had just realized that quilting had become as important as people and I felt I should take a break and do something for a while that wasn't so mind consuming. It seemed like a great hobby. I didn't think it would take up a lot of room, after all the girl that taught the class brought everything we could possibly need in 3 small boxes. I spent about $30.00 to get started. That was a lot for me to spend at one time but I really loved coloring on rubber with markers. I was very surprised that the $30.00 purchase was only enough to last until the store opened in the morning. My story is no different from any person who falls in love with any form of art. I couldn't find enough to satisfy me. My mother had been interested in stamping for a while and she had some idea of where we could get a few stamps. I went back to the teacher of my stamp class and she loaned me a large bag of old RubberStampMaddness magazines. I spent every second I had trying new ideas and shopping with my mother. Also my house was filling up with rubber. I started packing away sewing things to make room for my oldest son and my precious ink pads and paper and markers and glue and tape and pens and embossing powders, and empty containers to organize my supplies as soon as I came across a day when I couldn't think of something to stamp. I think you can see where this is going. Rubber was taking over my house, my time, and my brain. My son moved out and I had more room for stamping stuff. The only place in Toledo where we could buy stamps were gift stores. The store I took my class in was a children's book store called The Reading Railroad. They started a rubber stamp club where I met a wonderful artist, Anita Bodner from Toledo. She told me about some stores in Michigan that were only a few hours from home. The Stamping Ground in Royal Oak MI and The Stamp Peddler were both amazing stamp stores. Scenery was always what I loved to do, but there were few good scenery stamps that would work well if you colored on them with markers. I did a lot of pop-ups and tried every embossing powder I could find. At that time there weren't as many kinds. I watched a Dee Gruenig (founder/owner of Posh Impressions) tape and just loved her free fun approach to the brayer and stamping. Anita called me one day excited because she had seen Stampscapes at the Stamppeddler in MI. She had bought some of the stamps and couldn't wait for me to see the samples that were at the store. When I got there most of the stamps were sold but I bought a few and I ordered a catalog. This was the kind of scenery I had been hoping to do. I did Stampscapes every second I had. A group of women met at my home once a week and we stamped all day. I taught a few classes just to get more people interested in this type of stamping. I wanted everyone to share in the fun. I was wrong about the space that is necessary, the money it takes, and time it demands. But I will never be sorry for choosing stamping as a "hobby?"

KN: The creative process always seems pretty deeply interwoven with one's self. What does your art or the process of making your art do for you? Is there a common theme to your personal esthetics that you work to achieve?
LE: These are the questions that are the hardest to answer. The reason I stopped stamping was to spend more time with my grandson. Almost 3 years ago my son and 5 year old grandson moved in with us. When I wasn't stamping I was thinking about stamping. I was so obsessed with Stampscapes that I had to just quit cold turkey. I've always envied my sister Kathy because she is involved in a lot of different things and she manages to keep everything balanced. If I'm doing anything creative I have a hard time pulling my brain away from it and dealing with people. I didn't want to waste the time I'd have with Danny. Up until then I had just spent Sundays with him. As it turns out I didn't need to worry about getting to know him I've had plenty of time. He's 8 now and still lives with us. He doesn't need as much from me as he did before so I'm finding a little time for art. The creative process is so deeply interwoven with myself that I have a hard time keeping room for it in my life. Quilting was the same for me. I'm sure that people who know me think it is nice that I have something to do since I don't have a job or much of a life outside of my home. If I'm involved in any form of art I can't think of much else. A lot of people don't feel that stamping rises to the level of art, but I think it does. I think art is anything that gives a person a chance to be creative. The thing that stamping does for me is bring me a feeling of wonder and joy. As far as the last part of your question the only answer I have is that I don't try to achieve anything, and even though my emotions affect what colors and images I use, my pictures all seem to have a certain similarity of feeling. I'm not sure what it is but I get the same feeling when I look at your work. It is somehow spiritually peaceful almost soulful.

KN: I've asked a couple other people this question and I'll ask you too as it kind of leads into my next question. What is your typical stamping or creative experience like for you? Do you tend to find yourself stamping during a particular time of day? Do you listen to music during the process --if so, what type?
LE: I started stamping early in the morning. I get up week days before 5:00am so I have plenty of time. I prefer to be alone but it isn't necessary. I've stamped all day unless life interfered. I seem to be more creative if I have TV on. I have 3 different tapes filled with my favorite parts of movies. I play these over and over. There is something about the repetition that I need when I do anything creative. I know them so well that I don't pay attention to them but they keep my mind from wandering. The movies are all musicals and I just recorded the parts I like. I had to stamp. I just planned my life around it. My husband is a very understanding person and he has hobbies of his own. He enjoys the things I create and knows that sometimes it is all I can think of.
KN note: Linda and I have something in common here. I too seem to work better with the TV on too. I've probably watched (or rather "had on") a handful of movies about 30 times each, in the past, during my work on designs, samples and other visual works.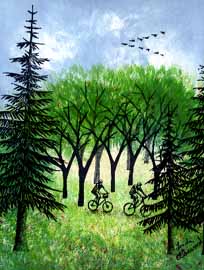 KN: Now, I'm sure I've seen just a small segment of your repertoire as far as a body of work goes --the scenes you've shared with me that have utilized some "Scapes" designs-- so, as far as these go, the next few questions will be so based. One of the first questions that I'm interested in comes from one of your unique "looks"/"signatures" to some of your scenes. What I'm referring to is the fluid/rhythmic look and application of some of the designs. You would actually drag/move/twist your stamps during impressions to make "moving marks". I'll call it "motion stamping". Tell me how this style came about. How did you develop this usage and what are your thoughts on it's resulting surface textures? I have rarely seen anyone else doing this and I love the look. (In the scene below Linda used the splash stamp to build foliage for the trees and textured ground cover.)

LE: When I first bought Stampscape stamps I wasn't sure what to do with them. Your catalogue said to use the tonal applicator to apply the color. I tried using my other stamps the same way. Just thinking of using the stamps as tools instead of stamps was so exciting I knew there was nothing these stamps couldn't do if I just didn't think of them as stamps. Smudging, swirling, sliding, bouncing, tapping all gave me a thrill that is hard to describe. Each different movement gave a different effect. To me it was creative heaven. I played with colors I would never have considered with conventional stamping. This was what I had been looking for, a creative way to do scenery that was so different I could get away with using any colors that I liked. Nothing had to look real and whatever I did was the right way to do it. It was exactly what I wanted and it was indescribably wonderful.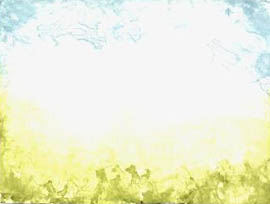 KN: On the same line as the previous question, I remember you showing me some interesting samples of yours where you would actually take the subject matter of your scene (usually a person or animal in the scene) and then utilize it in your "motion stamping" to create the sky with that same image. The scene I remember is where you used the "Horseback" stamp. I could only barely make out the figure in the sky in one area. It worked great. I thought the concept and results were *really* interesting. What was your theory behind this?
LE: I think it brings a continuity to the picture. I also love it when someone notices there is something in the sky. You know they really see the picture. It also makes people look at the pictures longer trying to figure out what the sky was made with. I think one of the tricks of art is to hold a viewers interest as long as you can. The more you look at art the more you get from it. The first time I tried this my cloud stamp was in the other room. The deer was just handy at the time. I loved the effect it gave. Stampscapes stamps work better for motion stamping than other stamps, maybe because of the dot construction. They just slide over the paper so easily that anyone can do it. [Note: used the "Lady on Horse" for her sky and "Horseback" for her ground]



KN: In the spirit of innovation, you've come to another application of stamp images. I'm referring to your computer assisted works. These are visually fascinating and rich images. Where or how did you find or develop this technique?



LE: Computer art is very satisfying and doesn't require a lot of space. In the beginning space was the primary reason. Stamping doesn't fit in my life right now and the computer does. I love scenery and when I started playing with the computer I started out with greeting card programs and some photo editing ones. Just learning my way around the computer was fun and all I needed for a while. Then I got Corel Draw and began making pictures using clip art. It was fun but not good enough. I needed to find a way to use my Stampscapes. I got a program called Microsoft Picture It!99 and it does amazing things. You also don't have to be a genius to figure it out. I love working with color and effects so I spent a lot of time with it and discovered that I could scan my stamped image and use them in my pictures. [see Linda Ellenwood Gallery "IV"]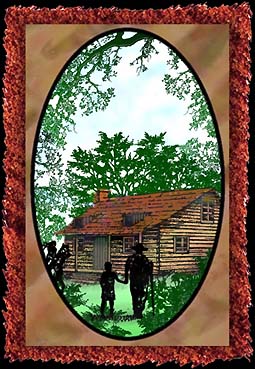 KN: Is there any difference for you, in the process, from working solely on paper to adding that of the digital? Do you look at the images differently as you're composing and building your scenes? Is there anything liberating about this method of composition? Anything restricting?
LE: There is a great difference in the way you can create backgrounds. The computer makes it possible to change your colors with different effects like clicking a couple of times and changing from a watercolor look to a pastel look. There is really no end to the amount of things you can do to color on a computer. It is easier to arrange the "stamped" elements on the page because you can move them around and play with the size and placement of the images so easily. Stampscapes stamps work better than others because of the construction. Clip art or other stamps really aren't as easy to adapt to this type of art. It is again because of the dot construction. It makes it easier to remove the white background you get when you scan an image. Kevin you should really think of branching out and putting some of your work on CDs. It would make it a lot easier to use. The one thing missing from computer work is touching. There is no smell of ink and rubber. I don't get to play with different handmade papers or markers. I have a great love for these things and I miss the feeling I get when you bounce the applicator or slide rubber around on beautiful shiny paper. The end results are also a little disappointing in the respect that if you take them off the computer they lose a lot in the printing process. If you keep them where they belong, in Cyberspace, they are beautiful works of art that anyone can enjoy. They are easier to share with others because you can send the same picture to a lot of different people. Here again though there is a drawback. When you receive a piece of conventional mail art you know the person made it just to send to you. That takes time and thought and you know they care enough about you and your opinion to give this piece of their self to you. With email it is different. They are just sending you a copy, while this is very nice it is not as personal.
KN: In your stamping work in general, what is the relationship between your initial concept to the final result? In other words, do you have an initial idea in your head that you're working to arrive at or is it more of a process where you'll arrive "wherever you'll arrive". Or, is it both? Somewhere in between?
LE: I don't usually have an idea of the end results I just let it happen. I start with blank paper and try to remember that it is just a piece of paper I can throw it away if I don't like it. I seem to get more of a creative release if I just do it and don't think a whole lot about each step. I usually limit myself to using only the supplies I assembled to start out. I find it very distracting to jump up to look for just the perfect tree or the perfect sky. Knowing this at the beginning helps to keep me focused on the stamps at hand. This also forces me to get better acquainted with each stamp and all that it can do. I usually work from start to finish and then set it aside and leave it alone. I don't go back and work on something I did yesterday. When I get up from the paper I think of the picture as a finished piece with an entity of its own. Even if I don't really like it I feel like the creating is over and the picture is what it is. Sometimes I work on several at the same time so that I can do a day and night or give the same elements a different personality. The exact same placement of images will give the viewer a different feeling if you change the lighting or color of the background. The same is true if the backgrounds of 2 pictures are identical and you change the placement of the same images. You can move the viewer around the picture anywhere you want them to go. I'm always thinking of the viewer when I create. What will the person think? What do I want them to feel? Where do I want them to look first? One thing that is typical with everything I create is that it must have a border or frame. To me the frame keeps the viewers eyes from leaving too quickly. It also gives a more peaceful feeling because you don't wonder what your missing just beyond the paper. You can also leave a small opening to direct the eye where you want it to go. The thing about your Stampscapes pictures that most appealed to me was the darker edges. Your art has a way of making people stay. I've watched them linger at your samples in stores, amazed at what they were looking at. That is good art!

KN: Where are you at in your creative journey Linda? Do you see your work going in a general direction? What are your theories behind the work/scenes and have they changed throughout the years?
LE: My work always reflects the things that are going on in my life. If I'm involved with life I'm not as involved with art. Right now my family uses up most of my house and my brain. I am a rubber stamping artist in my mind and emotion. For the time being the computer art is enough of a creative outlet. I feel that there are wonderful things to accomplish with my computer. I think the only theories that I have regarding art in any form is have fun and put something of yourself in everything you share with others. I wish my creative journey would somehow lead to an income but I don't see how that can happen. I don't think that the money is as important as the fact the it would validate what I do. I'm surprised at myself for this, after all these years now I think this is important. I am coming to a point in my life where I will have the time to choose to go back to actually working with supplies and stamping or just sticking with Cyberart. I'll just have to wait and see how things turn out.

KN: Besides your extensive virtual gallery on the Scapes site have we seen or can we see your work on other sites or past/present/future publications? (If you have URL links, publication names and/or issues, etc. those would be great).
LE: I've had pictures shown in The Stampers' Sampler the June/95, Feb./98, April/98 and the 98 catch up issue. I had a postcard in the March/95 issue of Rubberstampmaddness in the What's Doin' section. There is a web site for Picture It that has some of my pictures but right now the page is under construction. http://home.gallatinriver.net/~morris/SiteMap.htm This is a site I'm just starting so there is not much yet. I hope to have a lot more in the near future. http://www.toltbbs.com/~ggde/MS_PI/100799/album.htm I also love to exchange email art. My email address is cyberartist50@yahoo.com
KN: Do you or have you given classes or demonstrations?
LE: I taught a few classes at The Stamppeddler in MI. There were no rubber stamp stores in Toledo and the nearest stores were over an hour away so I just taught enough classes to get the store started with Stampscapes.
KN: We've covered a lot of things here Linda. Is there anything else you would like to say that I might have missed?
LE: There is something that I wish more people would do. Share their work with others. Another way that stamping and quilting are alike is the way I feel about the end results. I don't look at a picture or quilt and think I'm a wonderful artist or a bad one if things didn't turn out right. I give all credit to the thing itself. I showed my work to anyone who would look but it was not bragging or showing off, it felt like I was sharing this wonderful thing. I wish more people felt like that. I wanted to see everything other stampers were doing but there were very few opportunities for that. I thrived on mail art.
KN Note: With many artistic individuals, I've found that there can be a bit of reluctance when it comes to talking about themselves and their thoughts as expression usually come through their creative works. But just as Linda's work is highly articulate, aware and accomplished so to have been her words in regards to her processes both of her conscious decisions and her thoughts into her subconscious intuitive ones. In this article I feel we've taken a brief look into the creative spirit of an artist that comes close to perfectly balancing the mental, physical, and emotional/spiritual spectrums of a whole into their visuals works. I hope you enjoyed Linda's interview as much as I have. I know it's answered the many questions that I've had as to their creation and the process behind the results. Many thanks Linda!