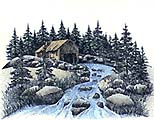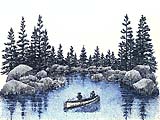 Watercolor studies -various compositions by Nancy Gentzsch, MO 1998
Note: Dennis Thompson from I'd Rather Be Stamping sent these scenes to show us how Nancy Gentzsch was using the line from Stampscapes®. In Dennis' words:
"She was having trouble with the tonal applicator & ask if detailed embossing powder could be used with your stamps. I told her that I didn't know & to go home & try it. She liked the black on white pretty well, however, a few days later she happened to have a water color brush in her hand & said why not. She did a watercolor wash over the detailed embossing powder & when you see them, you will see the results. The cards I have sent sell those stamps out. I have need to re-order them for over a month, but never enough hours in the day."
I'd Rather Be Stamping
2529 Bernadette Drive
Columbia, MO 65203.
email: irbs@sockets.net