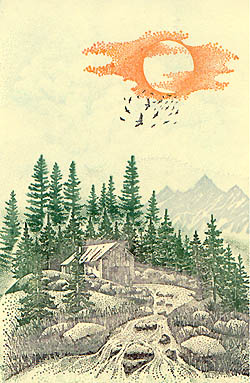 "In the Beginning" by Kylie Gray, OR 2000
Images: Cloudy Moon - by A Stamp in the Hand Co. Old Mill lg. 063G, Pine Row 150E, Rocky Peaks sm 211C by Stampscapes®.
Artists Notes: This is the very first image I made with Stampscapes®. I had no clue where to start so it was created on cream colored card stock with permanent and pigment inks. My stampmates wouldn't let me throw it away. I'm amazed at how primitive it looks compared to the images I'm now creating. It is truly a growth process.