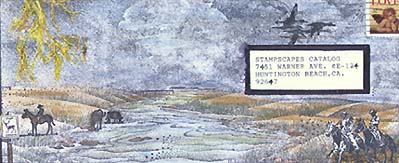 "Western Prairie" envelope by Gail Harrison, CA 1997
Media: dye inks, colored pencil, matte paper.
Stamp Credits: "Cowboys" in lower right and "Deer Crossing Sign" companies unknown. Cloud with Lightning 020E, Cow Pair 157A, Horseback 173A, Duck Trio in Flight lg. 024B, Waterside Bluff Left 148F, Waterside Bluff Right 149F, by Stampscapes®.