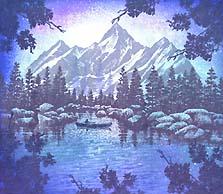 "Shimmering Lake" by Paula Huiras, MN 1997
Medium: Dye based colours, Glossy Paper, Opaque White Paint.
Stamp Credits: Lakeside Cove 048E, Lakeside Reflections 050E, Rocky Peaks 188F, Water Pattern 092E, Solo Canoe 159A, and Tonal Applicator 084E by Stampscapes®.
Note: Paula has used the Opaque White Paint pen in just the fashion that I love to use it myself. That glow coming from behind the mountain is enhanced by the white dots that are condensed in the lightest areas and dissipates into the darker surroundings. The dots in the water echo what's happening in the sky and gives an additional surface texture that says "water". -K
"Autumn Impressions" by Paula Huiras, MN 1997
Media: Dye Based Inks, Glossy Paper.
Stamps: "Leaves" company unknown, Cattails Lg. 017D and Cloud w/Sun 107E by Stampscapes®.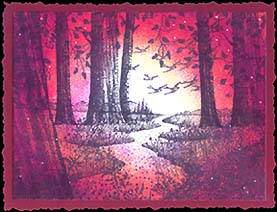 "Twilight Horizon" by Paula Huiras, MN 1998
Images: Hanging Branch, Birds, Foreground Foliage by companies unknown. Tree Trunk 087F, Tree Trunk Trio 088F, Crooked Path 146F, by Stampscapes®.