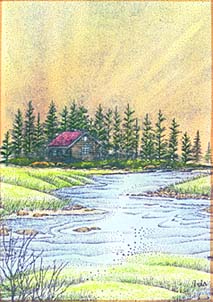 "Warm Rays over the Meadow" by Iris Kolho-Ihring, Sweden 1998

Images: Waterside Bluff Left 148F, Waterside Bluff Right 149F, Lakeside Cabin 147F, Leafless Limbs 052C, and Aurora Borealis: Rays 001G.
Note: This card was submitted for the Stampscapes® Drawing. There's a nice soft look to this card. The technique is colored pencils over sponging --I think. Whatever it is, it's nice.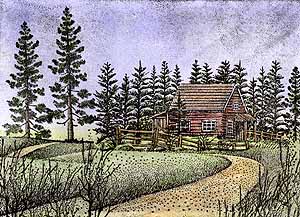 Iris Kolho-Ihring, Sweden / "A Winding Country Road" 1996

Water colour black, colored pencil, matte paper. Designs- Stampscapes® except- larger pines on horizon- company unknown.