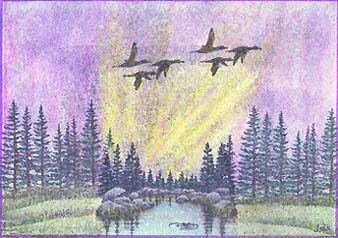 "Yellow Rays in a Purple Sky" by Iris Kolho-Ihring, Sweden 1999

Images: Duck Trio in Flight Lg. 024B, Aurora Borealis (Rays) 001G, Pine Row 150E, Lakeside Cove 048E, Waterside Bluff Left 148F, and Waterside Bluff Right 149F.
Note: This is an envelope send to us by Iris. Her usage of colored pencils and the blending of her colors give this scene a soft and rich surface.