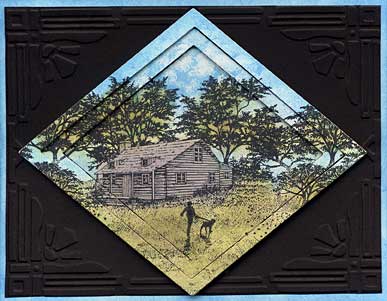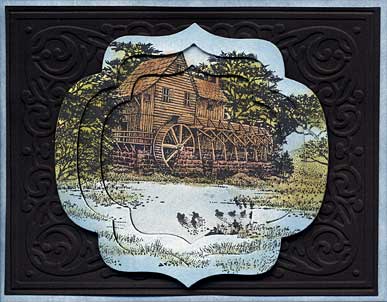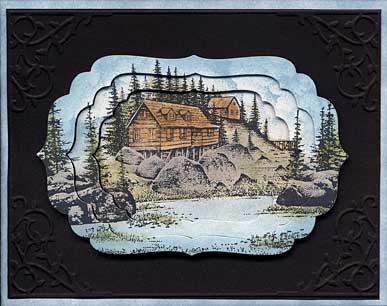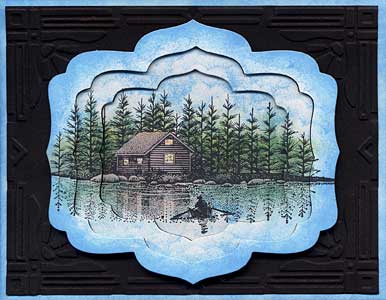 3D Stampscapes Cards by Debbie Krumrei, NC 2011
Stamps Used: Cloud 018E, Lakeside Cabin 147F, Row Boat 166A, Cabin 140E, Oak Row 223F, Dog Walk 227A, Seaside Dwellings 249E, Pine Island 207E, Pond 279F, Water Mill 142E, Flock in H20 225D, and Sedge Filler 251C
Inks: Adirondack Lettuce, Sailboat Blue, Hazelnut, Pesto and Pebble. Distress Inks: Stormy Sky, Forest Moss, Vintage Photo and Pumice Stone
I started with a 4 x 5 inch piece of glossy card stock for each card. All Stampscapes images were stamped in India Ink Black. Clouds were stamped with blue Dye based ink. Using my stylus tool with white foam tips I colored the images using Dye based inks in browns greens, and blues.
Once the coloring was done I used 4 different Spellbinder die cuts. I used the 3 largest dies graduating down from each set and laid them down on my scene and then ran them thru my Cuddlebug to cut them perfectly each time.
I ran black text weight paper thru Cuddlebug embossing folders to create the background frames.
I colored the white base card using my stylus tool with the same blue ink so it would match each scene.
The smallest part of the scene was attached directly to the black text paper. The second cut out was attached with 1 layer of foam tape and the 3rd layer was attached with 2 layers of foam tape.