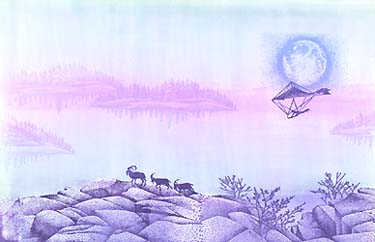 "Pastel Lake" by Michelle Lim, OR 1995
Stamp Credits: "Lakeside" & "Mountain Goats" by A Stamp In the Hand Co., Ledge 054F, Ledge with Brush 055F, Full Moon lg 038D, and Hanglider Lg 045B by Stampscapes®.
Instructions by Michelle Lim: 1) Stamp "Ledge" and "Ledge with Brush" w/Black Vivid Dye Ink Pad -linking edge at the bottom of the card. 2) Briar Stamp Francisco's Desert Flower Ink Pad at the top and mid-sections of the card so that a band of pink is created along the horizon. 3) Stamp Full Moon Large with a Sky Blue Vivid; then, stamp "Hanglider Large" on top with Black Vivid Pad. 4) Create islands by stamping the "Lakeside" on the Desert Flower pad in a relatively random fashion. 5) Stamp "Mountain Goats" with a Black Vivid so that the feet overlap the "Ledge". 6) Color "Ledge" and "Ledge with Brush" with a purple watercolor pencil then use a Q-Tip® dampened with water to blend the color.
Note: This is a great piece. I love the eloquent "light" that perfectly states the mood and feel for the scene. The "lakeside" design that's stamped in the background in multiples really gives the scene it's hazy diffused light. The space "between" the foreground and background is the real star of this terrific card. -K
Note: This scene was used in Michelle Lim's Stampscapes® Exchange 1995