This interview was done with Terry Luper by Kevin Nakagawa via email in December 2003.
Terry and his scenes first came to my attention in 2001 when I received a stamped envelope from him. Over these next couple years Terry's been quite prolific with his output and is right up there with some of the most enthusiastic scenic stampers I know. As everyone that comes in contact with Terry would attest, I find Terry to be quite a warm and giving individual. This is one of the traits that I find so common in the rubber stamping community and the one that I feel makes being around the medium such a joy. Stampers are individuals that take the time for personal creative expression but what separates this form of visual art is that a large portion of the output is given away to others. I find that to be common thread in my email correspondence with Terry. There's always a new recipient for his great cards and creative positive energy. It's been my pleasure to meet Terry in person either at workshops or at a convention. I hope you enjoy reading about Terry as much as I did and I'd like to thank him for doing this interview.
KN: Tell us about yourself --where you're from, where you live, family, pets?
TL: I was born in Los Angeles my parents moved to Oregon when I was only 6 months old. I live in Tigard,Oregon now which is about 10 miles south of Portland.Oregon. I'm married --my wife's name is Kimberly. She has a cat which is surprising to people who know me as I hate cats with a passion. I have a pretty good sense of humor as I love to tell jokes.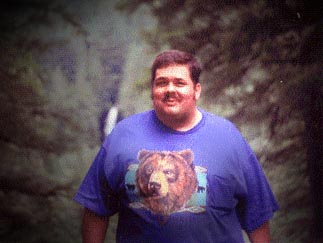 KN: Besides stamping, what other hobbies or pastimes have you done in the past or presently?
TL: I'm an avid photographer and I also enjoy camping and fishing. I love the outdoors, the forest and mountains but don't like the ocean.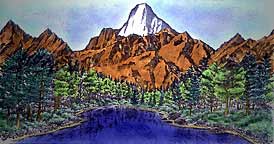 KN: I know you like the Dallas Cowboys. How is it you got into them?
TL: Yes I like the Dallas Cowboys. I'm a fanatic! and have been a huge fan for 36 years. When I was 11 I lived in a foster home, which is when I started watching football, and the Cowboys were just so much fun to watch.
KN: When and how were you introduced to rubber stamps?
TL: For many years I've been writing to pen pals and have always liked to decorate the envelopes. First I did stickers then stencils then one day I was at a craft store and saw some rubber stamps. The first ones I bought were a small lighthouse and sailboat. This was back in 1995 then in 1997 a friend of mine told me about a stamp store called the Peddlers Pack which is where I first saw the Stampscapes line and I was hooked.
(Terry's "Stamper of the Month" board at the Peddler's Pack in Beaverton, OR)
KN: You seem to have a specialty in landscape stamping. What is it about the genre that draws you in? Do you enjoy getting out into the outdoors yourself? You live in Oregon and I think you mentioned visiting Montana in the past?
TL: I love doing landscape stamping as I love the mountains. And yes I've visited Montana. I've been there many times and most of my scenes are what you'd find in the great state of Montana.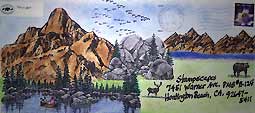 KN: How about bears? Your email address is "the griz" I take it that's short for grizzly--as in grizzly bears?
TL: Yes that is short for grizzly bears. I've been very fascinated by them for a long time. Have read many books about them. I have several grizzly bear video's both in documentary and movies and have around 35 grizzly bear rubber stamps. Someday I want to put up a web page featuring grizzly bear Stampscapes.

KN: You do a lot of stamping for others Terry. You really seem to enjoy sharing your expressions with others. Tell us about that and who do you stamp for?
TL: Yes I do love sharing my art with others. I stamp for my friends, family and pen pals. Most of my friends still can't believe that I do these scenes with just stamps. I tell them that I've learned most of my stuff from the artist/owner of Stampscapes --Kevin. I highly recommend people to focus on the lessons site of stampscapes.com and, if you get a chance to attend a rubber stamp convention, always go and watch Kevin at his booth then you can see how easy it is to put a scene together
KN: Your studio seems to be well organized and an environment that's very conducive to a creative atmosphere. Tell us about the evolution of your work space. How do you have things arranged?
TL: I've always been an organized person as it's much easier to find things when you need them. I keep my Marvy ink pads and gel pens on my desk. I have my favorite line of stamps STAMPSCAPES closest to me as I use them more than any other stamps.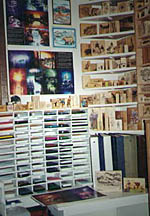 The next closest is my rack of grizzly bears stamps. My second favorite line is by Sutter Enterprises. Beeswax is another favorite as they blend in so well with Stampscapes.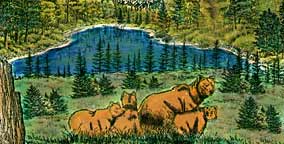 (Tree trunk by Beeswax. Grizzlies by Sutter Enterprises. Others by Stampscapes.)
My other lines are all together but organized such as the trees are all together as well as rocks, waterfalls, etc. so I can find them easily as I have over 800 stamps. I also have a very large notebook of Kevin's lesson plans which I refer to every now and then for some general ideas on how to do certain things just to give me a general idea of something I may want to try.
KN: Tell us about the media and techniques that you work in.
TL: I mostly use Marvy Matchable ink pads and apply the ink to the scenes using the Tonal Applicator 084E, stylus tool, crafter's nibs, and chalk applicators. Also, I like Adirondack and Memories pads. Lately on matte paper and envelopes I've been using color pencils in a layered technique which has produced some interest effects. Techniques wise, I've found that if you use the water pattern stamp #231C like the TA (Tonal Applicator 084E) instead of a regular water stamp it makes better ripples in the water.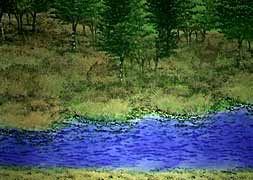 KN: What is your process in creating your scenes? Is there a favorite time of day that you like stamping? Do you listen to music or have the TV on while stamping?
TL: I usually have a general idea of what I want to make. Sometimes I have to change it a little as what I thought would look good in my head sometimes just doesn't come out right on the card. Don't really have a favorite time of day when I like to stamp as I stamp at different times. I have TV on while I stamp. But when football is on I find it hard to stamp. I have gotten so many ideas for scenes while watching movies and especially the ones set in the forests and mountains.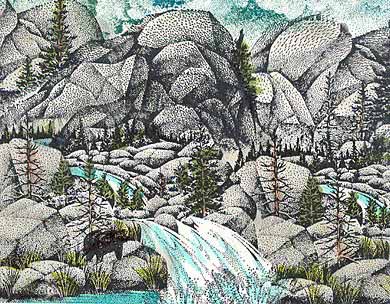 KN: Looking back at the time you started stamping and where you are now, can you see a progression/direction of your cards/scenes? Has your eye changed in the creation of your compositions?
TL: I feel I've progressed quite a lot since I first started stamping which was 5 years ago and that I'm getting more detailed. I've been told that ever since I took the two classes in Stampscapes 101 and 102 back in October 2002 that I've improved tremendously. Yes my eye has changed in my creations to make them look more and more realistic.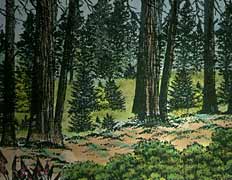 KN: Is there a direction you want your work to go in? Do you have any explorations that you want to apply to your scenes that you haven't gotten to you yet?
TL: I want to get more and more detailed in my scenes. Most of all I want to learn how to make my water scenes look more realistic with using the Claybord (Ampersand Art) technique. Also, I would like to do something with chalks and PearlEX paints.
KN: Is there anything you'd like to say to the viewers of your gallery about your work?
TL: Most of my scenes are from memories of my vacation trips to Montana. I hope any who view my Scapes enjoy what they see. Feel free to email me with their thoughts and comments on what they see as I always like to hear what people think.