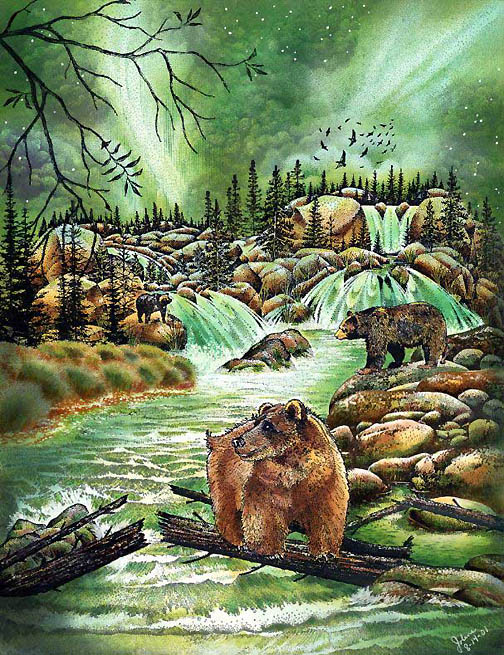 "Borealis Bears" by Jolene Meyer, Illinois August 14, 2001
Original: 8" 1/2 x 11"
Images: Bears by Mostly Animals & Stamp Happy. Bear (small one) 167A, Cascading Falls 015G, Side Falls 075G, Sedge bank Left 234F, Seaside Cove 139H, Aurora Borealis (Rays) 001G, Aurora Curtains 103G, Cloud Cumulus Lg. 019G, Cloud Cumulus 018E, Boulders w/Lichen 205F, Tree Trunk Trio 088F, Pines and Rocks 195G, Rock 129B, Rocks 130B, Rock Duo 131A, Bare Branch Lg. 122F, Leaf Sprig 127A, Water Pattern Lg 075G, Flock Lg. 113B Tonal Applicator 084E by Stampscapes®.
Note: Some of the most inventive usages of designs in this scene. The broken tree trunks from the Tree Trunk Trio, the layering of the Boulders w/Lichen, and of course the deconstruction of the Seaside Cove 139H to create the cascading water pattern is brilliant. A scene that definitely invites the viewer in for a prolonged and close examination.