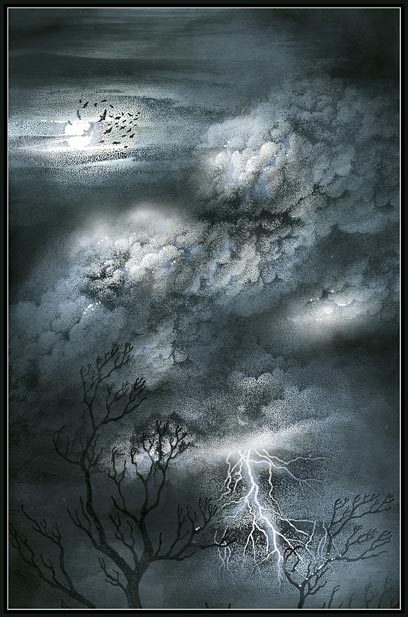 Above and Below by Kevin Nakagawa, CA 2008
Dye based and pigment inks on 5.5" x 8.5" Glossy Card Stock.
Images used: Cloud with Lightning Lg. 021G, Cloud Cumulus 018E, Glowing Orb 284F, Spooky Branch 273G, and Flock 112A.
All images were stamped with black ink. Sky images are especially important to blend in with one another seamlessly. When stamping them in a dark color such as black I like to wipe off the perimeter of the stamp about 1/4"-1/2" with a dry paper towel. This will soften the perimeter of the impressions and make them "fade out". These edges will, therefore, be easier to blend in with the surrounding images.
A Colorbox Stylus Tool with a white foam tip was used to layer a Tsukineko "Memento" grey ink into the scene. These inks are slippery and easy to apply to glossy paper as they allow you time to spread them without leaving harsh marks. A lighting scheme was established by toning certain areas of the scene out while retaining lighter areas by leaving them as is. Black ink was then applied to the scene to deepen some shadows which created more contrast.
White Colorbox pigment ink was applied to the light sources which are the moon and lightning bolt. Additional pigment was added to the lightest areas of the clouds. The most effective usage of this type of application is where light meets dark. I apply the ink in the light and work it slightly into the dark area which creates a soft diffusion of light. Don't apply the pigment ink too heavy in the dark areas. Using a thin layer will look like illuminated vapor such as fog or the soft edge of a cloud.