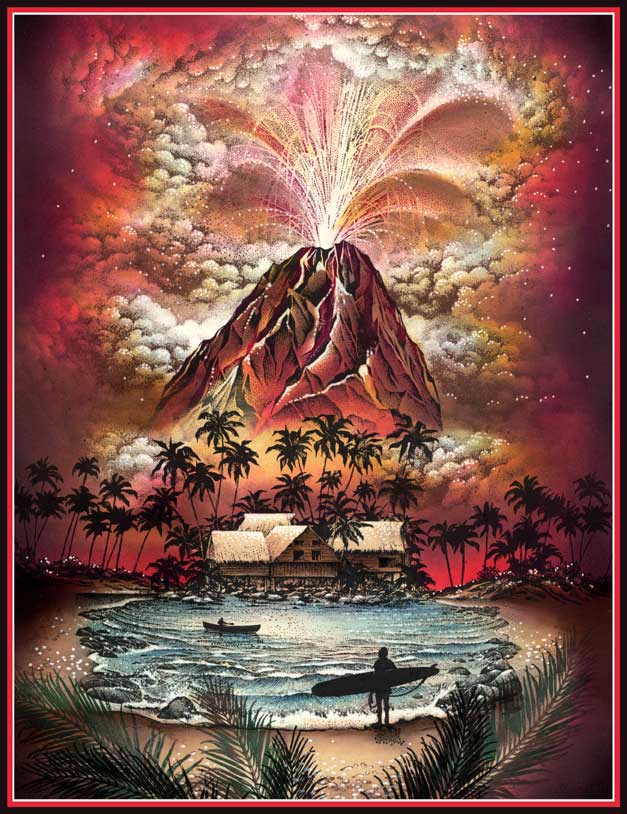 Tropical Lighting by Kevin Nakagawa, CA 2008
Original: 8.5" x 11" Glossy card stock, dye based inks, and a white gel pen.
Images: Cloud Cumulus 018E, Fountain of Light 104G, Island Mountain Lg. 095G, Palms with Huts 094G, Palm Island 120F, Solo Canoeist 159A, Palm Frond Lg. 124F, Longboarder 307B, and Seaside Cove Sm. 308G.
Note: This is a scene that I made for a book put out by Compass Point Books called "Stamping For Fun!" by Pamela Dell. It's a how-to rubber stamping book that introduces the medium of rubber stamps to kids. It has a brief history of rubber stamps, tools, techniques, and how-to's. There's a brief page towards the back of the book that has a little bio of me along with this scene and a bio of Karen Canto of Alexstamping. It's a nice introduction of the rubber stamping world for kids.