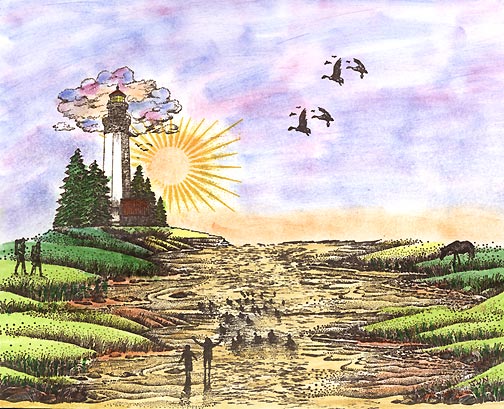 Gray Harbor West Light by Joe Nathan, NV 2001
Located in Westport, Washington & built in 1898. Lighthouse tower over 100 feet from the base to lantern & located 123 feet above sea level. Light is visible 23 miles to sea.
Images: Lighthouse by Nature's Images. Water Side Bluff rt -149F, Water Side Bluff Left -148F, Flock in H2O -225D, Running Kids -230B, Hiker M/F -161A, Geese in Flight -039A, Spotted Horse -155A, Water Patterns sm -231C & Luminous Sun -199E by Stampscapes®.
Media: Imprint with Adirondack Espresso & Archival Mustard Ink Pads, Pastel Pencils & soft Pastels in sky. Sealed with matte workable fixative.
Remember Rivers, Lakes & Ocean can be other colors than Blue or Green. Look to see how the sun or moon reflects on water and do the same. -J.U.N.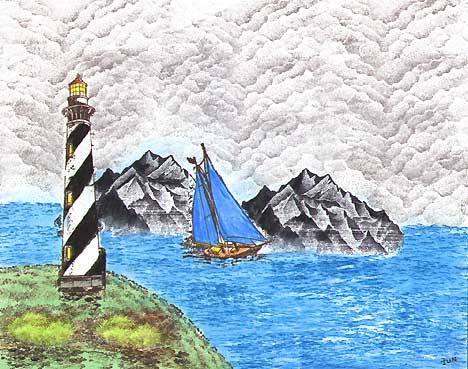 The Lighthouse by Joe Nathan, NV 2002
My home is the sea,
to warn ships
of rocks and storms
to sail another day.
I am a Lighthouse.
Images: Lighthouse by Rubber Dub Dub, Sailboat by PSX, Sedge Filler-251C, Sedge Cluster sm-265D, Pebbles -256A, Water Patterns sm -231C, Fog Cliffs & Waves 257F & Cloud Bar-119F by Stampscapes.
Lighthouse: Assateaque Light in Chincoteaque, Virginia. Built 1867 and still active.
Media: Imprint with Adirondack Slate, Espresso, Stream & Sea Bright Mussle Black Ink Pads, Brilliance Moonlight White Pigment Ink Pad, Pastel Pencils and sealed with a workable fixative.
My Friend A cloudy day when a storm approaches and the water is starting to get choppy and pushing us towards the rocks. If not for the light on the hill, it could be a treacherous journey. But the light shows us a passage to the open sea. JN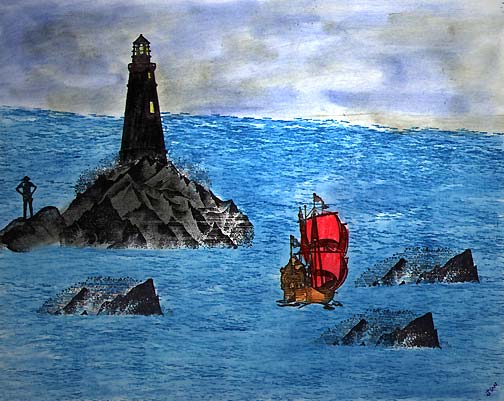 The Keeper
Wind and splash of waves against my face,
as the storm nears.
Fog horn from my light blows loud and clear.
My light shines bright to warn ships far and near.
That their is a path safe to sail.
I am a Lighthouse. JN
Images: Ship by Rubber Stamp Ave. Light, Rocks, Waves-220G, Rocks & Waves-235E, Rocks(2)-130B, Ranger-065A and Water Patterns sm-231C by Stampscapes.
Media: Imprint with Adirondack Stream & Espresso Dye Ink Pads, Pastel Pencils and Soft Pastels, sealed with Workable fixative.
The Keeper
In my other life as a Keeper of the light. I was standing on the rocks looking out at sea and the storm was approaching. A galleon was trying to get by the rocks and my light was showing him the way. The ship had a clear path to the open sea and we weathered another storm. JN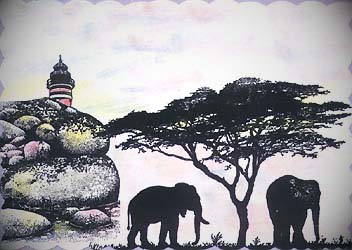 WEST QUODDY, LUBAC, MAINE by JOE NATHAN NV 2000
IN 1806 THOMAS JEFFERSON SIGN THE ORDER TO BUILD THE LIGHT. BUILT IN 1808 IT GUIDED SHIPS THROUGH THE QUODDY NARROWS BETWEEN US AND CANADA, UNTIL THE YEAR 1856.
STAMPS: LIGHTHOUSE BY REPEAT IMPRESSION. ELEPHANTS BY INK BLOCKS. BROOKSIDE BOULDERS 185G BY STAMPSCAPES®.
MEDIA: EMBOSSED WITH FINE BLACK EMBOSSING POWDER,PRISMA COLORED PENCILS AND SOFT PASTELS,SEALED WITH A MATTE FIXACTIVE.
WEST QUODDY GOES TO AFRICA. A PERFECT SCENE WITH ONLY THREE STAMPS. J.U.N.