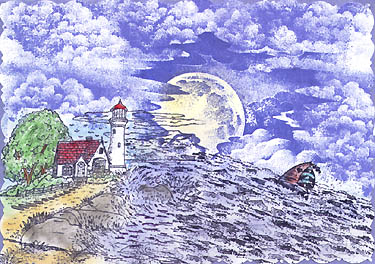 "Generic Lighthouse" by Joe Nathan, NV 2000
Images: Lighthouse Stamp Scene, Water by Joan E. Wear. Sailboat by Stampendous. Cloud w/Rising Moon Lg 198G, Clouds (Cumulus) 018E by Stampscapes®.
Art done with Prisma colored pencils and soft pastels and sealed with a fixactive for a darker and sharper effect. Card Stock Ashton Papier.