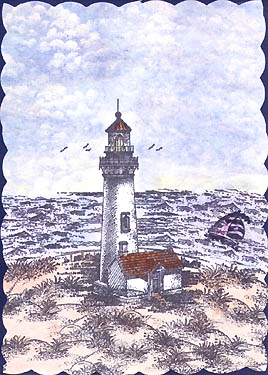 "Yaquina Head Light" by Joe Nathan, NV 2000
Lighthouse by Stender Designs. Sailboat by Stampendous. Water and Sand by Joan E. Wear. Cloud (Cumulus) 018E, Tonal Applicator (Rays) 117E by Stampscapes®.
Located in Newport, Oregon and built in 1871. Italianate supports adorn the 93 foot tower. It's the second oldest active beacon in the state. It lies adjacent to Yaquina head outstanding natural area. Noted for the sea stars, hermits, crabs and purple urchins which come to light during low tide.
Media: Clouds done with Memories Ink Pads, Prisma Colored Pencils and Soft Pastels. Sealed with a fixactive for a darker sharper effect. Card Stock by Ashton Papier.
"New Presque Island Lighthouse" by Joe Nathan, Nv 2000
Location: Michigan Lake Huron built 1870 replace Old Presque. It is one of the five tallest lighthouses of the Great Lakes. At 113 feet tall, one can see for miles from the top of the light. Ever seeing dangerous reefs hidden in the water and that's why it still functioning today.
Images: Lighthouse by Hardware Stampin, Water by Joan E Wear. Rocky Creek Lg 073G, Luminous Sun 199E by Stampscapes
Media: Prisma colored pencils, and soft pastels sealed with a fixactive that gives a deeper-sharper effect.
Generic Lighthouse By Joe Nathan NV 2000
Images: Lighthouse Scene By Impression Obsession. Sand By Joan Wear Designs. Cloud W/Rising Moon 198G & Cloud (Cumulus), 018E By Stampscapes®.
Media: Prisma Colored Pencils & Soft Pastels Sealed With A Fixative. Be Sure And Add A Little Color To The Clouds To Give It A Boulder Look.-J.U.N.