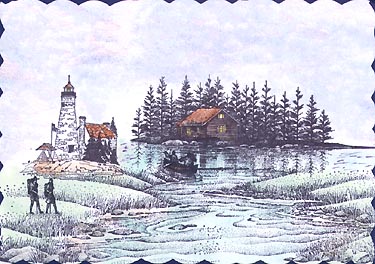 "Old Presque Isle Lighthouse" by Joe Nathan, NV 2000
Built 1840. Located on Presque Isle. On the shores of Lake Huron. There is no bulb in tower, a light was seen in 1992. Some people say its haunted by the former caretaker....
Images: Lighthouse by Hardware Stampin. Hike M/F 161A, Paddler 125A, Waterside Bluff Rt 149F, Waterside Bluff Lft 148F, Lakeside Cabin147F, Tonal Ap (Flames) 116E, and Cloud Cumulus 018E by Stampscapes®.
Media: Sky with Memories ink pads, Prisma colored pencils and soft pastels and sealed with a fixactive for sharper, darker effect. Card stock by Ashton Papier.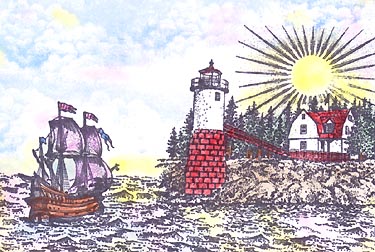 "Isle Au Haunt Lighthouse, Maine" by Joe Nathan NV 2000
Built In 1907 The Lighthouse Is A Brick Tower On A Granite Base. 40 Feet Tall, Has A Wooden Walkway To Keepers House. Today Keepers House Is A Bed & Breakfast Inn Called The Keepers Inn.
Stamps: Lighthouse by Love You To Bits, Spanish Ship by Ala Art, Water by Joan E Wear, Luminous Sun 199E, Cloud (Cumulus) 018E by Stampscapes®.
Art Work: Prisma Colored Pencils & Soft Pastels Sealed With A Fixactive For Darker, Sharper Effect.