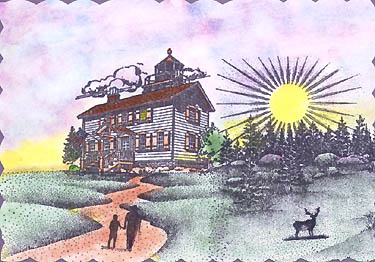 "Yaquina Bay Lighthouse" by Joe Nathan, NV 2000
Newport, OR. Built 1871 in the blackness of a stormy night a hundred years ago. A group of teenagers crept into the pitch black hallways 0f a musty abandoned lighthouse. One of them never came out. Years later people still notice a mysterious light in the upstairs window. They heard cries and moans coming from the lighthouse. When their are storms in the evening,people will come by and say they saw lights. Haunted or not......
Images: Lighthouse by Stender Designs. Luminous Sun 199E, Meadow Lg 057G, Crooked Path 146F,Buck 008A, Hiker and Child 165A by Stampscapes®.
Media: Prisma colored pencils and soft pastels, sealed with a fixactive for a darker, softer effect...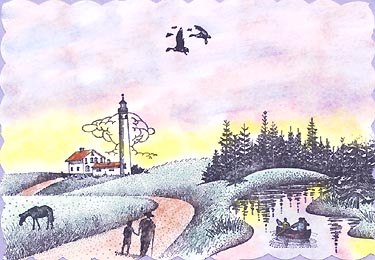 "So. Manitou Light House Michigan" By Joe Nathan NV. 2000
Built 1858,1872 located so. East point of so. Manitou island. Now is a museum, which is part of sleeping bear dunes national lakeshore.
Images: Lighthouse-Stampin Hardware, Country Stream by A Stamp In The Hand. Curvilinear Road 145F, Horse 155A, Paddlers 175A,Hiker & Child 165A, Geese In Flight 039A all Stampscapes®.
Media: prisma colored pencils & soft pastels and sealed with a fixactive.
For good contrast, what's in the sky put in the water. J.U.N.