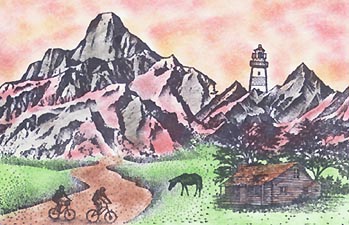 JOE NATHAN NV 2000
IMAGES: LIGHTHOUSE BY AUNTIE AMY. MOUNTAIN BIKES LG. 061B, SPOTTED HORSE155A, CABIN 140E,CROOKED PATH 146F, ROCKY PEAKS 188F, TALL PEAK 182G BY STAMPSCAPES.
MEDIA: PRISMA COLORED PENCILS & SOFT PASTELS SEALED WITH MATTE FIXACTIVE.
COULD BE MOUNTAIN BIKERS IN THE RED ROCKS LOCATED NEAR LAS VEGAS, NEVADA... J.U.N.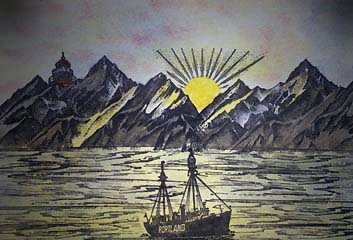 "Portland Lightships" By Joe Nathan, NV 2000
Had a series of four ships in 72 years. 1903-1975 The job of the Portland Lightship 112 was to act as harbor control and examination ship stationed outside of Submarine Net in Portland Harbor, so that German Subs could not sneak in.
Images: Lightship and Lighthouse by Repeat Impression, water by Northwoods, rocky peaks 188f, luminous sun 199e by Stampscapes.
Media: Prisma Colored Pencils, Pastel Pencils and Soft Pastels sealed with a Matte Fixative. For a great effect in color on rocky peak use pastel pencils in paynes gray and dark brown...J.U.N.
"Cape Mears Lighthouse" by Joe Nathan, NV 2000
Located in Cape Mears State Park, Northwest of Tillamook, OR, this light is only 17 feet above ground. Total height, above sea level is 232 feet, and can be seen for 22 miles. Built in 1890.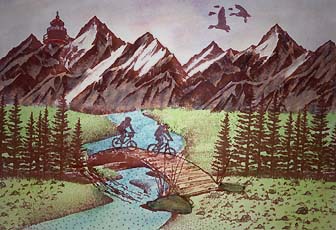 Mountain Bikers by Joe Nathan, NV 2001
Images: Foot Bridge by Creative Images. Lighthouse by Repeat Impressions. Stones by Stamp Galore. Stream (Crooked Path)146F,Rocky Peaks 188F, Pine Row 150E, Geese in Flight 039A and Mountain Bikers 061B by Stampscapes®.
Media: Stamp Imprints with Stamp It. Bright Brown Dye Ink Pad, Soft Pastels and Pastel Pencils sealed with a matte workable fixative.
What a great place to get lost in. Be sure to pack your art gear & sketch mother nature at her best. -J.U.N.