Joe Nathan passed away on February 25, 2013. The rubber stamping community will miss him, his work, friendship, and spirit of sharing that we all enjoyed. Knowing how you like to stay productive Joe, we'll be looking forward to seeing what kind of Heavenscapes you've been working on. Maybe you're working on pieces for a father-son exhibition with your dad. Now that would be quite a show.

This interview was done with Joe Nathan in Febraury 2000 by Kevin Nakagawa via email.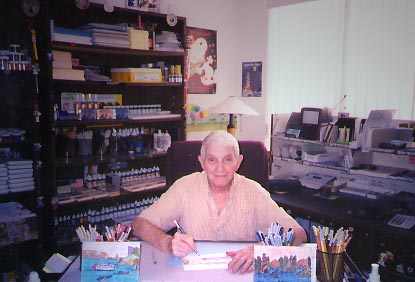 KN:I've known Joe for just a few months but his gallery has really expanded in a short span of time. After receiving a few samples from him I was intrigued by his particular angle to the gallery. The subject matter was apparent but I really liked the additional notation which is specific to each lighthouse that he included. I thought it was a perfect opportunity for what he was stamping in terms of adding written interest to that of the visual. I became interested in this gallery and he agreed to an interview. I think you'll really enjoy it.
KN: Joe, would you tell us a little background on yourself?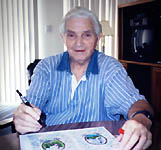 JN: I'm married to Suma who is a certified nutritionist, consultant, and planetary herbologist. We've been married for 36 years. I was born in Rochester, NY and lived most of my life in Southern California. We now live in Las Vegas, NV. My interest as a youth was baseball where I was good enough to be offered a try out with Chicago White Soxs, but along came the Korean war and that was that. I served and, afterwards, I entered business college and later became a sales rep. for a tire manufacturer and distributor. My son Dore, daughter-in-law Pam, and grandsons Josh and Mitch live in Southern California.
KN: How did you get into rubber stamping?
JN: I started to stamp envelopes eight years ago --I put a little snoopy in the corner-- then after I retired and moved to Las Vegas in 1995 I was looking for a hobby that I could relax with and create. I came up with rubber stamping.
KN: It really can be a very relaxing hobby. How much time would you say you devote to your stamping work? What is the stamping experience like for you? Do you listen to music, have the TV on, or silence when you're stamping? Is there a time of day that you find yourself doing most of your creating?
JN: Kevin I love to stamp and create. I could spend at least 5 hours a day creating scenes. I do take time out after each segment of the card. While working on my scenes, i can picture myself visiting what I created. I like silence so my train of thought is focus on what I'm doing. I love to stamp mornings and early afternoon. It's possible that I may come up with an idea early morning and I'll go to my office and write it down and go back to sleep.
KN: Did you do any other arts before you started stamping?
JN: When I was a kid, I use to do stick figures and that was as close as I came to art. My father was an artist, but my talent didn't come out until I was retired. My father is jumping for joy in heaven! Rubber stamping didn't have a chance to come out until five years ago as I was a sales rep for a tire manufacturer distributor. Between selling, driving and paper work I didn't have any time but I wish I could have squeezed in a little (stamping), just so I could have relaxed.
KN: Tell us about your father's art. What was his background in the arts? With your father being an artist, did he encourage you to practice art when you were growing up as a child?
JN: My father, Dore, was born to be an artist. He was an orphan and was taken in by Thomas Palmer -- a senator from the state of Michigan. He lived in Palmer's house, which became Palmer Park in Detroit. This was in the early 1900's. He studied art in France and painted scenes in France, Holland and many other European countries. He did portraits, landscapes and French provincials. He never pushed me into art but I remember sitting in his studio watching the way he did his backgrounds. It looks like it rubbed off.

KN: Your gallery has an obvious theme working here Joe. Tell me about the subject matter in your scenes.
JN: I was trying to find out how I could combine rubber stamping with my other hobby --lighthouses. That's when I found companies that made lighthouses,so I decided to put a short description of the light in the back of the card. I love lighthouses, they are beautiful and have great history. I hope that the ones on the doomsday list can be saved.
KN: How far back does your love of lighthouses go? How many different lighthouse stamps do you have in your collection at this time?
JN: When I was a kid I loved walking through lighthouses and when I was older I got a chance to visit some in Oregon. Can't explain it but I just find them beautiful. Through the internet I found many great sites and history of the lights. I own around 100 lighthouse stamps. Kevin I won't have to go to mars to look for more lights. I found some more to fit my Stampscapes scenes.

KN: How about your medium of choice of "Prisma" colors and pastels? You were telling me about the pastels a few weeks ago. What have you found out about these tools?
JN: For me, I find I have better control of my art, by using "Prisma" colored pencils and soft pastels. I like to do the lighthouses --mainly the roofs in there actual color if known. The "Prisma" colored pencils ("Sanford" and "Berol") work great. Soft pastels such as "Windsor Newton" have a great range of colors and many things you can do with them. A combination of the two and a good fixative like "Blair" to seal your art will bring out sharper and darker colors to bring out a smoother looking surface.
KN: Besides your ever expanding gallery on the site here, what do you do with your work? Do you exchange cards with others?
JN: Some cards I donate to an adult care home and some to safe net (a battered women's shelter). I send cards to friends and exchange cards with club members. I also just got invited to join a club that has 13 members only. It's called the "Lighthouse Scenic Club" and was founded by Lynne Kaiser. Once a month they exchange art work with one member and name the stamps and how they did it. Right up my alley......
KN: You belong to a stamping group. Tell us about the group and what do you do?
JN: I belong to the Silver Stampers a group of 50 plus in age, who love to stamp and send cards. A great group who are all artists in their own rights. I love the odds 112 ladies to 2 men! To link to their gallery, which I have some scenes in, click here
KN: That's funny! Now that you brought it up, Joe, that does seem to be about the ratio in this medium. It seems like of the stamping population, less than 1% are male. Any thoughts as to why that might be?
JN: A lot of men think this is a women's hobby and many that I have met never heard of rubber stamp art. Maybe some of the magazines should have articles stating this is a great relaxing hobby for both men and women. And the 99% of the stamping population that are women should get their husbands and boyfriends interested.
KN: Is there anything else you might like to add here or say about your work? Your subject matter?
JN: A great place to find lighthouses is on the internet. I like these links.
USA lights
Canadian Lighthouses: info and links

If you don't have a computer try "Lighthouse Digest" at 1-800 668-7737 a great magazine.
KN note: It's been fun watching Joe's gallery grow by leaps and bounds in this relatively short span of time since I've come to know his work and have corresponded with him. It's really fun to watch someone with such a passion for their subject matter express it on paper or whatever form of experience they choose. In Joe's responses, you'll find a couple of the things that I feel are the best characteristics about the medium of stamping. One would be that the medium seems to provided a creative voice for those looking for an outlet of expression and, at the same time, a retreat to relaxation. It's a medium that someone can pick up and quickly become very adept at the usage while being limitless in terms of the further exploration and honing that they may choose. Another aspect of the art is the community that seems to bind the users --the clubs, the exchanges, the correspondence, etc. Thanks for sharing your work and thoughts with us Joe. Glad to see what was "in your blood" coming out on paper! Looking at those black and whites of your father, you even look like him to me! ~K
BELOW ADDITION ADDED: 6/24/00
Below is an article by Nancie Waterman, Editor/Writer for Vamp Stamp News, from the June 2000 issue in response to a letter written to her by Joe Nathan. Information on VSN follows article.
Joe Nathan e-mailed me recently with the following question for you: Why is there such a small percentage of men stamping? Joe asks, "Why not more? Men think this is a woman's hobby and many men I have met have never heard of rubber stamp art. I find it is a relaxing hobby and at the same time you can create. If you have a hectic job or feel stressed out, start stamping and relaxing. It is great for your health, heart, blood pressure and healthy mind." Joe adds, "Women who stamp, get your husbands, boy friends, etc. interested for more creative relaxing days rubber stamping together. Show them scenes - water scenes, country scenes, fishing, boats and all the stamps that would appeal to the male."
I think Joe has a good point. Why aren't there more men stamping? It is an interesting question. There are definitely men in the stamp world. There are men designing stamp images, men who manufacture stamps (either their own line or those of other businesses), men who own or co-own stamp stores and men who love stamping just as much as their female counterparts. But if you look around at stamp conventions or stamp stores, you are likely to find that females outnumber male stampers by a very large margin. Why?
I personally think the reason has something to do with the way many people discover stamping. For many, the route to stamping comes through crafts, an area that has traditionally been something within a woman's sphere, at least in the past. Also, many women learn about stamping through friends, so as more women share this interest with their women friends, the female bias gets reinforced.
Another possibility might be the stamp images available. But are there really stamps that appeal just to men or just to women? When my husband Jim goes with me to a stamp convention, it is not unusual for him to buy more stamps than I do, but the stamps that draw his interest are different than those that drawn mine. Yet I suspect this is more two different individual's taste than male or female. You might expect him to be interested in the stamp images typically found on a father's day card - fishing, golf, sports in general, cars and other vehicles, etc. But this isn't what he picks when he buys a stamp. He goes for Northwestern Native American art, images from the Incas and the Mayas and just about anything from Stamp Out Cute. Gargoyles would catch his attention too. Jim does use my stamps sometimes to make a card and it is fascinating to see what he does with the same images. I'll use them to make a peaceful nature scene. He'll add a swamp monster and a bit of humor that I never would have thought of.
Maybe Joe is right - that if more men were introduced to stamping, there would be more male stampers. Consider introducing a man friend to stamping. Show them embossing. Show them a web site or catalog with stamps that fit with their interests. Father's Day is coming up this month. Make a card for your dad and then show him how you made it. Just maybe you will plant a seed that will bring him into the fun of stamping.
By the way, Kevin Nakagawa, one of the best-known men in the stamping world, has a wonderful interview with Joe Nathan on the Stampscapes web site (www.stampscapes.com). Joe's interview is found in the gallery section, which is arranged alphabetically by last name.
Copyright Vamp Stamp News 2000. Reprinted by special permission of VSN.
Vamp Stamp News PO Box 386 Hanover MD 21076-0386 410-760-1495 (fax) vampstamp@prodigy.net
KN note: VSN has long been known in the rubber stamp community as the "Stamper's" Stamp Magazine. Very up to the minute/cutting edge techniques and tips are always found in the pages. Heavy in content/substance this relatively low key magazine has a very loyal following out there. If you're serious about stamping and have an eye open for new ideas I would highly recommend this publication. I asked Nancie for a description of her publication. She wrote:
I think my favorite way to describe VSN is "A monthly techniques and news publication packed with information for people who love rubber stamps." And/or you could also use the lines from the magazine: "VSN's goal is to provide a forum for sharing information about stamping and related activities. We strive to promote rubber stamping as an activity and to support stamp businesses."
I've never quite figured out the best way to describe VSN to be honest. It's not quite the typical glossy magazine, so people don't always know how to take it when they first see it. I can't tell you how many times people have told me that they ignored it/avoided it at first and then accidently actually picked up a copy and read it and fell in love with it. People have very set ideas of what a magazine should be and VSN doesn't fit that - oh well, life as round peg in a square hole is interesting at least!