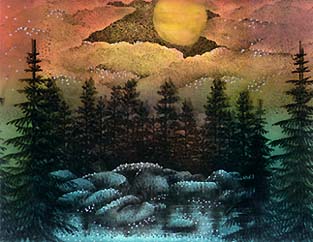 "Earthen over Aqua" by Barbara Owens, TX 1999
Images: Country Pines by A Stamp In the Hand Co. Lakeside Reflections Lg. 051G, Cloud w/Moon Lg. 106G, and Solo Duck by Stampscapes®.
Note: The color combination and their application really makes this scene come alive. The undertones of in the sky make the clouds glow and there's some warmth coming from underneath the blue tones of the water if I'm not mistaken. The hue scheme of this scene is practically perfect. The white accents are just the right finishing touches.