Ken Pesho Interview


These questions were asked by Kevin Nakagawa via email in 2007.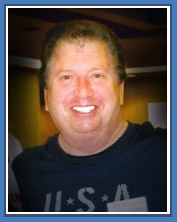 KN: Tell us about yourself Ken. Where are you from? Family? Etc.
KP: I was born and raised in Cleveland, Ohio. Went to a Catholic school from kindergarten, all the way through. Was never permitted to take a 'frivolous' course like Art because my entry to high school tests put me in a College Prep course of study. I always loved art. As a kid I would go with my parents and brother, every Sunday, to visit both grandparents homes. To entertain myself I used to draw the caricatures in the yellow pages, like the "Big Boy" restaurant logo and any caricature I could find. Three weeks after I turned 17 I joined the Air Force. I spent 9 months in Texas, 15 months in Peshawar, West Pakistan and my last 2 years outside of Washington, D.C. working at NSA. I was discharged and converted to fill my own vacancy at NSA and loved it. Made the mistake of promising my ex-wife that I would move back to Cleveland after a year if she didn't like Maryland. One year later I was back in Cleveland working in a machine shop. Four years later, after her parents had moved to Phoenix and we came out for a visit, I moved to Phoenix with her and our 3 kids ages 4, 2 and 7 months. After 23 years of marriage we divorced. I have been married to my wife Delia for 20 wonderful years now. We have a home in Glendale and another in Prescott. It's just the two of us and her 'child', a double yellow napped Amazon named Felix. She is the reason I started stamping. I have been a professional salesman for the last 37 years being in an industry extremely╩ important in the desert - SHADE.

KN: Before stamping, what were your favorite pastimes, hobbies, etc.?
KP: We used to own a boat and spent a lot of time at the then uncrowded lakes in Arizona and sold it when people at the lakes became intolerable in numbers and craziness. That's when we bought our home in Prescott and THAT became my hobby.

KN: When did you come across stamping? There aren't a great deal of men stampers. Was it your wife that started stamping first? Do you stamp together?
KP: One day in 1998 Delia came home from the store with some kids stamping kit. She wanted to stamp the flowers on her envelopes. This from a lady that claims she "doesn't have a crafty bone in her body". Within a few short days she had gone to a stamp store and took a class that started everything. She came home and proudly showed me what she had made and I was amazed! I told her I though I'd like to try it as I'd always been interested in art (and it sure looked like art to me). That weekend happened to be the stamp convention in Mesa, which she found out about at the class, and off we went. Spent a small fortune at the show, came home and didn't have a clue what to do with the things we had purchased so decided we'd better find out. She started taking classes and then coming home an teaching me at night. Since then we sit across from each other almost every single night stamping.
KN: What kind of stamping/crafts/art do you do?
KP: I stamp everything but 'cutesy'. I do everything from ART Lense, Embossing Paste, Faux Iris Folding with ribbon and have taught classes using all the items that come and go in the stamping industry. But I am absolutely addicted to Stampscapes. I think it's because I believe it to be a step above stamping. You are actually creating ART.
KN: When/Where did you discover Stampscapes? What attracted you to the line or genre of scenic stamping? Do you remember the first scene that you made?
KP: In 2002 my wife and I decided to go to Carson, CA to the biggest stamp show I'd seen in the almost 3 years we'd been stamping. I came across your booth and you were doing demos. It was the most incredible thing I'd ever seen. I was in total awe watching you put together a scene and then tapping away with the Tonal Applicator. The finished product was truly a work of art that I would proudly display on my wall. You did a scene for me, signed and dated it. It still hangs on the wall in our stamp room. The scene was done with #049G Lakeside Cove and offset with the second image of it. I just knew I had to learn to do this. I bought numerous stamps that day, came home and put them on the shelf and just looked at them for the next 6 months. We went to the the Fall show at Carson and while my wife shopped I spent the entire show watching and learning. Bought more stamps and came home and started doing scenes. And my first scene was with The Lakeside Cove, Oak branch and Moon Rising.
KN: What media do you use with Stampscapes? What is your favorite?
KP: I have done Stampscapes using The Tonal Applicator, Clearsnaps ColorBox applicators, colored pencils, chalk, twinkling H2O's, regular water colors, stippled, tried acrylic paints. You name it. If it has anything to do with the stamping industries new products - I've tried them with Stampscpaes. I think I must be a purist because I believe The Tonal Applicator is still The King.
KN: You come up with so many different compositions and color schemes Ken. How are your scenes different and how are they the same? Do you see similarities in them? I think I've seen you write about the colors of your scenes before and how your drawn to certain intensities (relative brightness of a given hue). Tell us about these things in your work.
KP: When I do a scene, and when I teach a scene, it's critical to me to 'have things in perspective'. The scene MUST be realistic. I don't want to have a loon swimming in the lake next to the Solo Canoeist. It's not real. The loon is big enough to swallow the canoeist like a bug. So everything must flow. I don't want to create 'toy soldiers' with reeds at the bottom of the page. They don't grow that way. Some are tall, some short. some angled. To flow in a scene you must learn how to blot the edges when needed so you don't end up with a square sky or water in the lakeside cove that 'just ends'. I always tell my students to make the colors 'as you see them in YOUR mind's eye. When I see the sunrise or sunset it's incredible how the colors flow. I can never copy it but I do what I've seen. I watch the cloud formations over the tops of the mountains and how the light hits them and try to recreate that on paper. The only similarities I see in my scenes is that there is continuity to them. As you said while you were demoing at the Carson shows - envision where the light is coming into your scene and go from there. You can always add color to a scene but it's really tough to take it away. Dark colors are dangerous so always start light and add as you go. Build it up the way the designer and teacher shows you. The colors I see are vivid and that's what ends up on my paper. I just don't see pastels or muted colors.
KN: Tell us what stamping does for you. What is the experience of creating like for Ken Pesho?
KP: Creating a Stampscapes scene is relaxing and extremely fulfilling. Stamping anything is always fun but creating a work of ART with a scene is just about beyond words. Being in sales is an extremely tension filled job. Both mentally and physically (14 hour days) exhausting. To sit down in our stamp room, take a sheet of white gloss paper and create the get-away place you would love fly away to, if only in your mind, is the way to keep whatever sanity you have left intact. The Stampscapes stamps are created so flawlessly real that all you have to do is add ink to create.
KN: Where do you derive your inspiration for your scenes from? Where do your ideas come from?
KP: Sometimes I wake up in the middle of the night and have a scene in my mind. In sales, I drive a lot every day and in the heat of the desert there are a lot of places I can go mentally to cool off and even in the cooler months there are still my fantasy places. I don't even have to close my eyes to see a scene I want to create. It just seems to be there.
KN: Where do you stamp in your house? Do you have a dedicated stamping area? Is there a particular time of day that you tend to stamp?
KP: We have one bedroom completed╩dedicated to stamping. The shelves on the walls, counters, cabinets, paper racks on the walls and our stamping table could rival a good sized stamp store. I stamp anytime my paperwork is done from sales that day. Neither my wife or are are avid TV watchers but if there is a tennis match or something on TV that we want to watch there is a TV on a wall stand in the room so we can stamp and listen/watch. Many times I will get up in the middle of the night and not be able to go back to sleep so I just go in and stamp. Delia was very happy when I started using Clearsnap ColorBox applicators and she didn't wake up hearing the tapping from the TA.
KN: When you stamp what do you like your environment to be like? For example, do you like to listen to music, tv on, silence, etc.?
KP: I can stamp in any mode. BUT, I am stuck in the fifties and do love to listen to music while I stamp. And if there is a sports event on that night we will watch/listen while stamping.
KN: The desert has its own particular beauty to it --the colors, the air, the light, etc.. Has it had an influence on your personal visual esthetics? If so, what in particular do you think you've taken from your environment and translated into your scenic works if you could pinpoint a/some things?
KP: Yes, the desert has played an enormous role with my visual esthetics. I've lived in the North on Lake Erie, in Texas with a myriad of environments from San Antonio to Wichita Falls, in the mountains of West Pakistan and spent time in the mountains North of it, on the Chesapeake Bay in Maryland, but there is no beauty to compare with the desert. Be it in bloom in the spring, in the heat of the summer or the cool of the winter. And - I also live in the mountains of Prescott at 6750 feet. But nothing like the desert. Desert means color. Cactus and it's flowers, the mountains at sunrise or sunset. Cloud formations over the mountains. But until you've seen a summer sunset in the desert you've not seen color. It's taught me to see things in a different way. Almost 4 dimensionally. It's shadows and the way light hits on and through things.
KN: You teach classes Ken. When did you start teaching and where do you teach? What classes do you teach?
KP: In 2003 I started teaching in Prescott at Ben Franklins with the constant pushing from Tim Holtz who was the craft╩coordinator there. My wife and I used to go there for classes and to purchase stamping items, and I used to take my Stampscapes scenes in to show Tim. Through him I finally got the bug to teach. I now teach two classes a month, almost exclusively, at Stamp Works in Chandler, AZ. Twice a year, I teach in Tucson at a great stamp group at Saddlebrook. If I had the time I'd teach every week. I teach Stampscapes and Stampbord and, my workload permitting, will occasionally teach faux iris folding with ribbon or embossing paste or whatever the request, also at Stamp Works.
KN: I'm always hearing rave reviews from people who have taken your classes and seen your demonstrations. Tell us what the teaching experience is like for you? What do you enjoy about it?
KP: Teaching is very fulfilling. Listen, it's a 104 mile roundtrip on a Saturday 8A.M.-5 P.M., getting samples ready for two different classes, prepping for 24 people, packing, unpacking, cleaning and putting things away. If it didn't give me the great satisfaction that it does, I'd just spend more time stamping for myself. But to be able to show someone else the things that can be done with these incredible stamps and still use the basics I learned from you plus the things I've learned on my own is just fantastic. It means that others can get the satisfaction and enjoyment from doing the same thing that I enjoy so much. It just feels really good.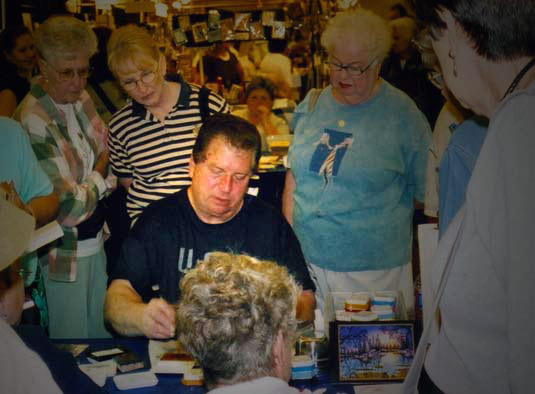 KN: Rubber stamping by nature tends to lend itself to a community oriented medium. A vast percentage of stamped creations out there tend to be conceived with the idea of giving it away. Ideas are shared, cards exchanged, and this spirit is created. I know you do a lot with Ria Vaneman's online Yahoo.com Stampscapes group. Tell us about the group. What do you all do there?
KP: Ria's group is an incredible bunch of very talented people and a lot of 'newbies' with the same yearning for the enjoyment of the product that we all share. I never had any formal art training so I can only say that mine are God given talents that I received through my mother. If anyone on the group asks me a question, they must feel I have something to give in return, and I am only too happy to do that. Trial and error. School of hard knocks. Whatever else I've learned, I am thrilled to pass on to the person asking and anyone else that reads the posts. I'm flattered that they even ask. I don't have the time to get involved in the swaps they have but my day will come. I love looking at all their artwork and a day never goes by that I am not in awe with all the wonderful creations. The enthusiasm of the group is contagious. I wish more people knew about it. You can learn so much and be a part of a wonderful group.
KN: Through stamping or the entire creative experience with rubber stamps including teaching, have you discovered anything about yourself that you didn't know before?
KP: Yes, I really didn't know I could have such a passion about anything. I didn't know I could care so much about people I didn't know. I didn't know I could care enough to want to help others to learn how to do something so wonderful. I guess I didn't know me.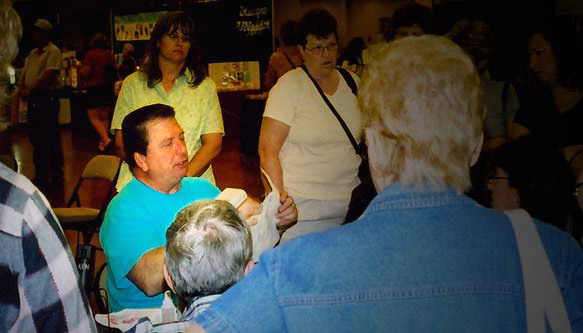 KN: Is there anything else you would like to put down here that we missed?
KP: Yes. None of this would have been possible for me, all the members of Ria's Yahoo group and all the people that have been fortunate enough to purchase your creations. So I want to thank you for doing that and for teaching me how to create with your creations.
Email Ken Pesho