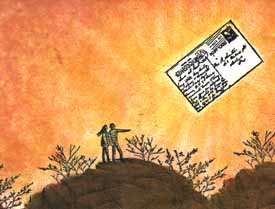 "Figures On A Cliff" by Bernice Piotrowski 1997
Images by Stampscapes except for the "postcard" design--company unknown
Colours: Dye based inks Note: The focal point on this card is quite apparent. With the explosion of warm tones that transition from a dark tan to a bright yellow, that surrounds the "postcard" design, our eyes know what the creator intended us to look at. What reinforces the focal point is the fun use of the "Pointing" figures below. Illumination is brought out even further by Bernice's usage of the "Tonal Applicator- Rays" stamp that, when using it to surround the postcard in the sky image, radiates crepuscular rays out into the world.