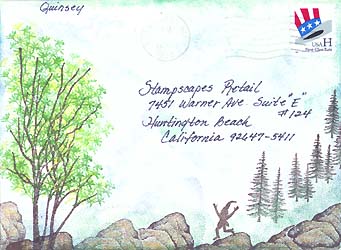 "The Woods, The Rocks, The Moss" Envelope by Julia Quinsey, CA 1999
Images: Little Running Man by company unknown. Leafless Limbs Lg. 053F, Foliage 035A, Rock 2 130B, Tree Duo 085A by Stampscapes®.
Note: This is a great little scene by Julia. The variation in the foliage placed on the Leafless Limb stamp is really effective and the usage of the surrounding elements gives the scene a sense of "whimsy".