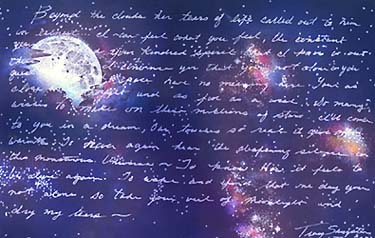 "Star Maker / Dream Breaker" by Tracy Sangster, MI 1997
Media: dye based inks, glossy paper, opaque white.
Note: The usage of the opaque white paint pen gives a nice texture and additional design element to an already rich surface of deep color in this scene. Plus, the fact that it's handwriting adds to the personal touch that makes a statement of who it's a representation of, and unique to.
Stamp Credits: Cloud with Rising Moon Lg. 198G, Milky Way 058E, Tonal Applicator 084E, by Stampscapes®.