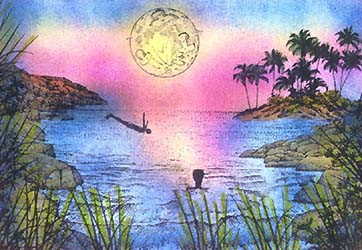 "Tropical Dive" by Stampaholic Fanny, MO 1998
Images: Stamp Planet, Rubber Stamp by company unknown. Rocky Cliff (left) 133G and Rocky Cliff (right) 134G, Seaside Cove 139H, Reeds Lg 068D, Palm Island 120F, Foliage 035A, Foliage Lg. 036B, & Diver 111A by Stampscapes®.
Note: Strong saturated colors really push the blending of images in this tropical composition.