This interview was done with Tyra Smith in January 2000 by Kevin Nakagawa via email.
KN: Tyra, thank you for doing this interview. Maybe you could give us a little background on your family.

TS: I'm married to a wonderful man who spoils me incessantly, his name is Roy. We have three children: Shyekara, Blake and Angel. We also have pets: Chi-chi (a miniature doberman), Daisy (a yellow cat) and George and Gracie (the canaries). Currently we are living in the Green Bay, Wisconsin area, but I was raised in a small town (Comanche) in Southern Oklahoma.








KN: How did you get into stamping and when was that?
TS: I've been into one craft or another my entire life. In early 1997 I saw a section on Aleene's craft show about card making with rubber stamps. I thought it look somewhat interesting, but it didn't go any further than that. Then later that same year, on my birthday, my mother gave me a card that had a $100 bill in it. She told me I could have it as long as I did the following: spend it ENTIRELY on myself..not on something to make for the kids or Roy. I had to spend it entirely on myself. Sounds easy right?? Not as easy as you would think. I went down to my local Michael's craft store and browsed the isles looking for something that would peak my interest. Eventually I ended up in the rubber stamp isle looking at the stamp and accessories remembering that Aleene's show I had seen earlier in the year. I ended up spending my money on stamps...one black pigment ink pad (who knew there was more than one kind of ink pad right??) and a package of shrink plastic. I went home and began playing, then I spent the next week searching the internet for informational sources trying to figure out WHY my ink would not dry on that shrink plastic!!! I found a few email lists that were rubber stamp related and subbed to them, and that was the beginning of a long and enjoyable journey of self expression and educational adventures.
KN: Where does stamping fit into your pastimes --what does it do/mean for you?
TS: I made the same mistake every other stamper I've known made at the beginning. I thought I could learn to stamp and could make cards cheaper than what I could buy them for...hahahaha. But it seemed, the more I learned about rubber stamping, the more possibilities there were. Stamping started out as a past time. I always need to be doing SOMETHING...I'm a stay-at-home mother so I need things *I* can do in the quiet moments to keep from getting bored. However, over the next 18 months, stamping began to take over my every waking moment. I knew I was drawn to creating realistic landscapes, Native American pieces and anything that has wildlife in it. So I began looking for stamps that would help me express what I want to create. Luckily..I found Stampscapes® fairly early on and they have remained a constant "companion" in most all of my landscape/Native American artwork.
For me...my art is purely about self expression. There is something of myself in each piece I create, though many times it is VERY subtly incorporated. As I've learned to express myself within my art...I've also learned more about myself in the process. It's been a very delightful journey for me..and one that continues on a daily basis. As I "evolve" with my artwork, I feel a need to share what I learn with others. This is expressed on my web site in the tips/techs pages and personal art gallery. I also have been fortunate enough to teach classes locally and on line as well. I travel and teach workshops an demo when the opportunity presents itself. I have been very fortunate to have several different stamp companies become interested in my artwork and they hire me to create convention samples, ad boards and display boards for them, and sometimes I even get to work conventions as a demo artist for them too. I love being able to do all this, but I honestly feel that my highest sense of personal satisfaction comes when I get to sit down and create "my own little worlds" within my art. I have been asked quite often where I get my ideas for the art I create. It really comes from many places within myself. Sometimes I dream a scene, wake up and write it down..then begin working on it the next morning. Other times I may see something, in a magazine or outside my window, and I am drawn to try to recreate it. Still at other times, I will create artwork that shows how either I WISHED the world was, or how I think it may have been in the past. I do try to portray the beauty this world can offer because I know the ugliness is out there and very EASY to see...but to find the beauty in things is often the most difficult thing in the world to accomplish. I am MOST drawn to sunrises too, this is something I learned about myself early on. It took me almost two years to figure out WHY I am drawn to sunrises. For me, the sunrise is perfect. At that one moment in time...everything in the world is perfect. The day may become difficult later, but that's OK because I know tomorrow, the sun will rise again and I will be able to find that one moment in time that is perfect. It gives me a sense of balance in my life, a sense of harmony, and this is important to me.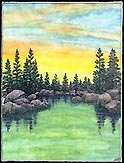 KN: What other types of crafts do you enjoy?
TS: Oh my. There are lots of crafts I've enjoyed over the years. I'm an avid cross stitch fanatic. I can't tell you have many pieces I've finished that are stored away waiting for me to get them framed. I crochet a lot too. I also love to sew and quilt. As my children get older and need projects to work on for school, I find I begin remembering all those things I learned, or created..then moved to the back of my mind. Salt dough art, bread dough beads, collage, diorama, shadow box art dried/pressed flower art, paper making...and the list can go on and on. I LOVE to paint. I am always buying books on different arts and crafts so I can learn as much as possible. I read a LOT. Plus, I find that I need to have something to do with my hands in the evenings. It's almost impossible for me to sit and watch TV or movies in the evenings and NOT have something to be working on as well. Cross stitch, quilting and crocheting work well for this!
KN: Alright, now here's the question(s) that I'm really curious about. Seen in the individual pieces but especially in a grouping, a very apparent connection of content is there. What's at the root of what you're going after --even beyond the actual images. Is it connection, expression, spirituality, etc.? What do the pieces say to you? What are you saying through the pieces?
Mostly, in my personal artwork, I'm going after self expression, the journey of learning who I am. It's important for me to have exact placement of images, which can require a ton of masking and re- works to just get the layout right. Once my layout is right, I look for balance and harmony between images. The question I ask myself at this time usually is "Does the piece flow smoothly from one image to another?" Once I get the layout correct, then I apply colors. I LOVE color...lots of color...all over the place!!! But once again, it's important to me that the colors flow smoothly. Is there a smooth transition between ground work and sky work? Will the main image be subtly incorporated into the piece, or do I want it boldly expressed? Details are important to me. I love working a night scene because I can use stars in the sky to create the constellations. (I can't take credit for this idea..a good friend gave me the idea) I've literally spent hours watching water..lakes and rivers...just to see how light plays off the surface, or how the ripples look, how the water moves...what colors are in the water, etc. I think Nature itself can be your best teacher at times. Everything is right there for you to see, if you take the time to do more than just "look" at it.
Does my artwork have a message? Sometimes. I try to hint at the message, if there is one, in the title of piece. It's subtle, but it's there.
What does my artwork say to me? It says..hey, this is ME!!. This is how I see the world at this particular moment in time. Sometimes I create humorous artwork, this is usually to relieve stress..ha ha ha. If I'm upset or angry for some reason, rather than cry about it and discuss it to death, I'll create a piece of artwork that makes light of how I'm feeling. I figure, you can laugh or you can cry..I'd rather laugh. Life is set of choices we make on a daily basis. I wake up and I CHOOSE to be happy. I decide my day will be a good one, and work through the crises as they crop up KNOWING it will pass and I will survive. I think this is also what my artwork is about, in small sense. I also use my artwork to express my feelings about things that touch my soul and inspire me to create. It may be a book I've read, something I've seen on TV, something my children did or said, or a conversation I've had with a friend. Yes, my art is about me and my world(s), and finding a way to share it with others.
KN: I know you've been in several publications. Can you list them and the issues?
TS: RSM (Rubberstampmadness) March/April 1999 - Go Pack artwork RSM March/April 2000 - African Landscapes RSM July/August 2000 - Featured Artist VSN (Vamp Stamp News): several issues with quotes from me regarding tips on product usage and stamping techniques. Canadian Stamper 1999 - Featured Artist Profile and artwork
KN: You've worked as a visualist for several different companies. Who are they and can one view your work for them online?
TS: Stamp Companies I've worked for:
Stampscapes®
Marco's Paper
RubberArt
Wanderlust Artisan Stamps
Buffalo Stampede
Rubber Stamp Rampage Stamps
HALOS
Angelwings Enterprises
Appalachian Art Stamps
Fancy Stamps
Stamp With Me
MagicalFaerieLand Products
Sunday International
PageSage

TS: That's about as nearly a complete list as I can come up with, though there might be one or two I've forgotten, and hopefully more I can add in future. I think I've got artwork on most of those web sites too, some have more than others.
KN: Your work has been seen far and wide in the Stamping industry/community. Are there other venues where you see your work appearing?
TS: My artwork will be exhibited/sold in fine art galleries in North Eastern Wisconsin. It has been a goal of mine for almost 2 years now to be able to sell my artwork in a gallery, and I'm almost there!!!! ;-)
KN: You teach several different classes both in person and online. Can you list the classes that are in your repertoire for us?
TS: The following are my on line class listings, more to come eventually. I can also teach them in person.
1. Basic Paper Pricking 2. Basic Stipple Brush/Non Stampscapes® 3. Stampscapes® 101/Stipple Brush 4. Stampscapes® 102/Stipple Brush
The following are classes and/or demo's I teach in person, but are not available at this time for on line classes.
1. Colored Pencils - learn the basics and some tips/tricks
2. Decorative Chalks - learn the basics and some tips/tricks
3. Pastel Pencils - learn the basics and some tips/tricks
3. Watercolor Crayons/Pencils - learn the basics and some tips/tricks
4. Stampscapes® 101/Basic Landscaping - Basic Stipple Brush technique with Stampscapes® images, creating scenes on 1/4 sheet cardstock
5. Stampscapes® 102/Intermediate Landscaping - Stampscapes® 101 is required.. This class is taught using the stipple brush technique, but the technique itself is not taught, as it is already being taught in 101. We complete 3 class projects in this class: Day Scene, Night Scene. The projects are completed on 1/2 sheet of cardstock.
6. Stampscapes® 103/Advanced Landscaping - Advanced stipple brush techniques using Stampscapes® and Non Stampscapes® images to complete one class projected on a full sheet of cardstock.
Note that the Stampscapes® 101 and 102 can be taught using stamps lines other than Stampscapes®.
7. Stampscapes® Workshop - This class is wide open to the possibilities of your creative imaginations. Different ideas, formats and techniques using Stampscapes® stamps.
8. Out of the Ordinary - We learn to use unusual items which are "out of the ordinary" in our rubber stamping artwork.
9. Alternative Card Design - Tired of the normal folded card format??? Explore the outer realms in this class.
10. Natural Embellishments - create works of art using nature's bounty as embellishments. Cards and bookmarks.
11. 3-D Vinyl - Come explore the outrageous world of 3-D Vinyl - simply mind boggling!!!
12. Peg Books - A very easy, yet elegant book format to explore.
13. Circle Books - Didn't think books came in circle formats??? Think again!!!
14. Tri-folio Cards - a very unique card design with unlimited possibilities.
15. Shadow Boxes - a class for the very adventurous stampers!!!
16. Fun Foam - SURE you can stamp on it!!!
17. Shaker Cards - Tons of fun in each card!
18. Concertina Books/Accordion Cards - Come join me on a journey of "expanded creativity" !!
19. "Freeform Dry Embossing" - Learn to use your existing stamps as templates for dry embossing on vellums.
20. "UTEE Tiles" - create extraordinary tile pieces for embellishments or pins using either Ultra Thick Embossing Enamel, Liquid Glass or Amazing Glaze.
21. "Match Cover Booklets" - create small miniature booklets in the form of match covers.
22. "Post-it Note Books" - medium sized books which use post-it note pads as the signatures.
23. "Blender Pens" - Explore the magic of blender pens.
24. "Pearl Ex Pigment Powders" - Learn how to use these beautiful powders in your art.
25. "Radiant Pearls" - soft shimmery paint that creates very unique artwork and cards.
26. "Bookmark Bonanza" - create various bookmarks using different products, surfaces and stamps.
27. "Stained Glass Window Cards" - create unique stained glass window art using glitter and transparencies.
28. Paint with Bleach - VERY cool pieces created using bleach to "lighten" areas first, then add color.
29. Coffee Filter Books - creating books using standard coffee filters.
30. Basic Paper Tole - create three dimensional art using a stamped image.
31. Oil Pastels/Cray-pas - learn to create beautiful backgrounds with oil pastels.
32. Fragile Crackle Picture Frames - revamp old or new wooden picture frames to hold your artwork in.
33. Colored Hot Glue - It's GREAT for many applications and creates very unique artwork. It "ain't just glue anymore" !
KN: Final Note~ I wanted to say that it's been a real pleasure getting to know Tyra over the past couple years. Her stamping work has gone through a creative journey in media, composition, content, and emotion. As a spokesman for Stampscapes®, I'd like to say that we feel fortunate that she just happened to come across our company and liked the designs. Through her works, we've seen the images used in compositions and combinations that are both stunning visually and great examples of creative personal statements. Innovative and ever searching, Tyra and her techniques/ideas have been a great source of inspiration and information for the stamping community. Thanks Tyra and "Bravo"!