This interview was done with Mary Sprenkle in April 2000 by Kevin Nakagawa via email.
KN:Mary caught my attention with the scenes that are included in her gallery. The first three scenes were done in different techniques or, rather, were embellished differently. Different looks but noticeably from the same hand --a common thread that runs through her work. Mary's love of the outdoors really comes through in her work and now, with this article, her words. I want to thank Mary for granting the interview and for sharing her time and thoughts with us. I hope you enjoy it.
KN: I was wondering if you could tell us a little about yourself --what state do you live in, family, whatever you want to tell. You mentioned that you're on a computer during the day? What do you do?
MS: I live in New Hampshire with my husband Dave. I am a native of New Hampshire and love the weather changes that accompany the seasons. My favorite season is fall, which offers spectacular foliage and warm days with cool nights. There is no better way to de-stress from a day at the office than to take to the woods. My dogs insist on daily walks, and in poor weather, I just put on the gortex. I spend part of every day in the woods and I love it. Our children are all grown, and we have two wonderful grandchildren. We have filled our empty nest with two dogs and a cat. Our English Setter is named Dixie Belle and she is six years old. Her favorite sport is running through a field after pheasants. Shatzie is a 12-year-old Border Collie who must play Frisbee every day or it's a bad day. We have a cat named Alley Cat, and she will come on walks with us.I work as a Configuration Manager for a large corporation. A lot of my day is spent on the computer. When our busy work schedules allow we both enjoy spending time outdoors.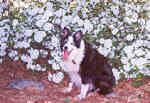 KN: Besides stamping what other interests/hobbies have you done or do?
MS: I enjoy fly-fishing and archery, being out with my dogs or just relaxing on the boat reading a good mystery. There isn't always enough time to do these things, and I hope that when I retire I will be able to spend more time doing them. Right now my dogs take up a lot of my time, although Shatzie is the first one in the boat when she even suspects that someone is going fishing. She will watch the fly with intense concentration hoping for a hit. There is always such disappointment when the fish is released. We seldom keep our catch. I also spent many years snowmobiling but with bad shoulders now, I cannot endure the riding. Cross-country skiing is another activity that I hope to have more time for in the future. Along with all of that, I love to cook, and I collect cookbooks and antique measuring cups. When I'm ready to relax, I curl up with a good book.

"We do not remember days, we remember moments." Cesere Pavese
KN: How and when did you get into rubber-stamping?
MS: Three years ago, my daughter who was living in California at the time, called to ask if I could find some hunter green card stock for the place cards she was making for her wedding. One of the shopping plazas that I pass everyday had a rubber stamp store, and I stopped there to look for the paper. I had never been in a rubber stamp store and was in awe at all of the stamps and sample cards on display. I did find the hunter green card stock. As I waited in line to pay for my purchase I overheard several people signing up for classes. I inquired about the different classes and ended up signing up for a stencil class. I was amazed at the cards I was able to make. After a few months I purchased my first rubber stamp, and I have not touched the stencils since. I was naturally drawn to your line of rubber stamps because they were what I know; nature. I was able to quickly learn to use many elements to compose a scene. It was an incredible sense of accomplishment for me. I have never tried to do anything creative before, and I had all of my family members and friends cheering me on. As a child my father was the craftsman. He could make anything with his hands and was a very talented leather carver, to name one. My interest in rubber-stamping came very close to the time of his passing, and I sometimes wonder if it was not just a coincidence that I found this hidden talent. He would have enjoyed my scenes very much.
"If one advances confidently in the direction of his dreams, and endeavors to live the life which he has imagined, he will meet with a success unexpected in common hours." Henry David Thoreau
KN: What is it about the medium that you like? What does it do for you?
MS: Since this is my first attempt at being creative, I really don't know if I could be as successful with another medium. Rubber stamps offer many people the ability to create with endless possibilities. For me, it allows me to put on paper what is in my heart. I love the outdoors and all it has to teach us. Sometimes when I am out on my walks I will see something and think that no one else will ever see this because no one else is here. The picture of Shatzie was taken on one of these days when we climbed up what I have nicknamed 'heartbreak hill'. At the top of this hill for as far as you could see was the most incredible mountain laurel display. And no one else was there to see it or smell it. We went back every day that week and were probably the only humans to have seen this incredible sight. We have mountain laurel each year but only once in many years will you see what we saw that summer.

"Early morning hath gold in it's mouth." Benjamin Franklin
KN: What type of rubber stamping do you do? What media/accessories do you use?
MS: I pretty much stick with what I know. And that's scenery. Every once in a while I'll attempt something else but I am never pleased with the results. I use many types of colored pencils depending on the affect I wish to achieve. I have dozens (and dozens) of pencils and I keep them in pencil cups by color. My desk looks like an advertisement for colored pencils. I think that the pencils allow me to create a more realistic scene. The most fun for me is to compose a scene. Sometimes I see a terrific sunrise or sunset on my commute and can't wait to get to my desk to try to put it on paper. Other times I may have to stop the car to let a family of geese cross the road and a picture forms in my mind for another scene. It's fun to compose a scene that somehow tells a story.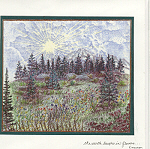 "The earth laughs in flowers." Emerson
KN: When it comes to your scenes in the Stampscapes gallery we see different methods used. I was wondering if you could talk about these techniques. What do you like about each one? How would you compare/contrast the process and result of each one?
MS: All of the scenes were done with pencils. On the gushing waterfalls I added some oil paint to create the texture. When I created that card I had just returned from a trip to Yosemite and wanted to depict one of the waterfalls I had seen there. As I worked with the pencils, I could not show the powerful white water from the falls so I decided to experiment with the oils. Using swirl effects with the brush, I was happy with the results. The two other scenes are sample cards for one of the classes I teach. Both are simple compositions.
KN: Even with each different media, they still read as if they came from one hand --yours. There's a continuity between the scenes. I was wondering if you could give us your thoughts on your personal aesthetic. What colors do you like, what look or feel are you going after in your scenes, etc.?
MS: I try to make all of my scenes multi-dimensional, and I try to make them as realistic as possible. I want the beholder to see something from their heart along with mine. Perhaps a meadow with some color sprinkled about will bring to mind for someone a special dandelion a child picked for them one day. A scene by the lake with the sun setting and a boat rowing to shore might make you think of the fish that got away. Or the night you stayed out in the boat too long, and your flashlight was out of batteries, and you had to walk through the woods by the moonlight (my foot was in a cast at the time). I think that all of my scenes take me someplace I've been or want to go to in the future. If I make a special card for someone, I try to bring him or her to one of their places. My favorite color is red and often my scenes will have a touch of red in them. Otherwise greens and browns are the colors that I need to replace often.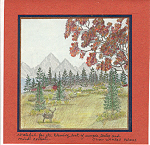 Caption: "Grateful for the blessing lent of simple tastes and mind content." -Oliver Wendell Holmes
KN: When you're working on a scene what is your process? Do you have a clear idea on what you want in terms of composition, color, etc? Do you start somewhere with a loose idea and develop it as you go along? Is it completely improvisation as you progress?
MS: Most of my scenes start with a clear idea but sometimes the outcome has a different twist. My biggest problem is that since I spend so much time in the outdoors I have too many ideas and no time. Once in a while if I'm trying to customize a card for someone, I will start with a loose idea and watch it develop as I assemble all of my options together. I usually compose my scenes in one sitting and add color to them another day. I rarely complete a card in one sitting.
KN note: One of the quotes that have stuck with me is that, "Art is what takes place between the initial concept and the final result." I don't know what art is, but I like that definition.
KN: Where and when do you find yourself working on your artwork? Is there a particular time of day that you find works best for you? Do you like stamping alone? --with others? Do you listen to anything while stamping?
MS: I have a room that I have taken over for this hobby, and I am able to leave things to go back to another day. I don't have a lot of time to devote to stamping, so any time of the day that I can steal away works. Most of the scenes I create have several hours in each of them. When I create a scene it is always quiet, best with no interruptions. When I add color to a scene I sometimes have background music or TV. I don't usually get much done when I stamp with others. I am a solitary person.
KN: Do you see your artwork moving in a certain direction?
MS: I would like to see my artwork continue to improve. When I retire from the 40hr-a-week job, I would like to devote more time teaching, for I find sharing my knowledge with others very rewarding. The first class I taught was incredible. The students were so enthusiastic and excited about their compositions that I knew this was what I wanted to do. I have a couple of ideas for some tools (aids) that I'd like to develop and perhaps market.
KN: Is there anything you would like to add that I might have missed?
MS: I'd like to tell you about a place where I spend a lot of time. We have a remote camp in Maine on a small trout pond. There is no power or running water there, but we have many of the comforts of home. Mostly, though, I can sit on the front porch and witness all that nature is. From this porch we have seen a cow moose teach her calf to swim, otters frolicking like seals in a circus show and loons dance across the water. It's what I love. This front porch has been and will continue to be a great inspiration for my artwork. We are in the process of building our retirement home and it will be in a piece of a forest of old growth. For this side of the country some of the trees are huge, and we hope that from that front porch we will be able to watch Mother Nature too. As you can see, my art is what I'm all about.



From left to right: Mary's camp in Maine, Young Bull, Frequent Visitor -view from porch, Mrs. Moose -What you won't be able to see in this PIC is the swarm of black flies (Maine is famous for these) and the deer flies that are surrounding her head. This is one of the reasons she is in the pond. If you are close enough to her, in the boat, and she puts her head under water, the flies will move over to the boat!!! The other reason she's in the pond is that they love the grass that grows underwater. At night, you can hear the water running off of them when they come up for air, as they continue to feed along the bottom.
KN Note: Mary would certainly be a person that we can say is in tune with her content. Not only does the artist "know" but she "understands" the subjects that she depicts in her work. An understanding brought about by seeing, hearing, smelling, tasting, and touching. Of observation and a consciousness within the surroundings in which she frequents. It's where the senses are open to whatever may come along to enjoy the moments in the fullest. Mary~ your words paint a perfect picture of those special details and quiet moments in your world. A quality that, also, shines through in the work. Thank you again Mary.