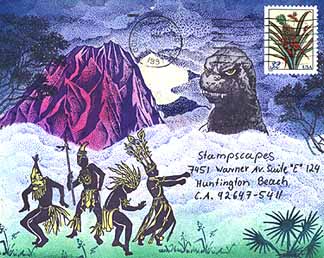 "Tribal" 1997. Petra Sullivan, CO. Medium: Dye based colors.
Images by Stampscapes except "Godzilla", "Dancers", lower "foliage"-company(s) unknown.

Notes: What a fun scene. Beautifully composed too. The dark dancing figures are offset by a light screen of billowing clouds, of which, the monster rises. The monster has a backdrop of clouds just as the dancers, but in this case they're dark making his shape even more ominous. The light from the moon gives off just enough light to illuminate it's face just as it lights one side of the mountain (If you notice, Petra shades only one side of the mountain thus giving the illusion of light being cast by the moonlight. It also gives volume to the mountain shape). Trees are added to the foreground which is a nice compositional element and completes the scene. Like I said before --fun! really fun.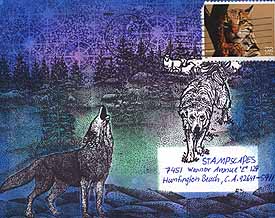 "Wild Outdoors" by Petra Sullivan 1997 / Images: Animals- company unknown, background images by Stampscapes.
Colours: Dye based inks. Note: Beautiful jeweled tones were used on this envelope to create a vibrant surface. Her tones and shading creates spotlights for the subjects on the stage of her scene. In the spirit of her subjects notice Petra's choice of postage stamp.
"Titanic" by Petra Sullivan, CO date unknown.
Images: Ship by company unknown. Others by Stampscapes.