Stampscapes® News / May 2019

May 2019

Okay, I keep forgetting this section of the website is even here. lol. I'm always updating the various pages of this site with lessons, new stamps, and the embedded Pinterest and Flickr sites but I forgot about this news and events page. For Stampscapes based news, if you feel inclined, please sign up on our mailing list. Emails are sent 1-4 times per year and your email address is safe with me as I will NEVER sell our list.
I've been enjoying working with the latest stamp release and have yet to use some of them beyond my initial impression and stamp sketch tests. I'll be delving into the stamps for months to come and you can view my tests in the Stampscapes youtube.com videos. If you like the videos, consider subscribing to the channel and you'll be notified of all of the new video uploads. Those videos are also embedded into the Lessons section of this website. The new designs have added an increased depth of view with the larger animal silhouettes. I love placing these elements into scene foregrounds using Versafine black pigment ink for instant drama. There has been an increase with my media experiments with the new designs being used on different papers such as dark mattes.
Over the past year and a half or so, I've returned to the Carson, CA convention and did the Mesa, AZ show for the first time. I've tagged along with Rubber Stamp Depot and have been in their booth. RS Depot makes Stampscapes rubber and the sets so it's a good pairing. The shows have been a lot of fun as I really enjoy being around fellow rubber stampers and talking all things rubber stamps and accessories. I get a lot of ideas from everyone especially with unfamiliar media and the latest supplies that people like. I'm really enjoying the Wink of Stella glitter pens that people told me about at the Mesa show and a cosmetic foundation brush (to apply ink with) that someone gave me at Carson. Thanks for all the info everyone!
Okay, back to another video. This year has seen a "Super Bloom" in southern CA and I've taken two trips to the desert to see this. I want to do more spring themed scenes as inspired by some of those visuals.
---
August 2014
Hello to my fellow rubber stampers. Someone recently sent me an email asking where they could purchase some Stampscapes stamps and I pointed them in the direction of this website and they said that they just wanted to make sure as the last update was in 2012. The site's always being updated almost on a weekly basis but I realized what they were referring to was this "news" section. I tend to forget about this section as you can see as it's kind of an antiquated, by social media standards, compared to things like Facebook, Flickr, Pinterest, etc. etc. etc.
I don't have much to report here but most of my free time over this past year has been spent in the development of the Stampscapes youtube.com channel instructional video series. I've always wished there was an effective vehicle for getting the techniques out to people that might be inclined to learn them and the videos are just about the best way that I can think of at present. They're unedited and long but can be fast forwarded through. I'm trying to get just about every point that I can think of into these videos so that I can refer people over to them when asked about something specific. They've been good for that but I've posted enough of them at this point to where I've almost forgotten what I've already uploaded and talked about.
I'm trying to work on some new designs as well but that's always slow going. I probably have a backlog of 500 designs that I want to do and the list grows faster than I can produce them but that's a good thing. I just spent two nights in a small 10' x 10' log cabin in the local mountains where the first night had a summer storm clearing which had this thick fog move in and I was treated to some spectacular visuals for 30 minutes or so. I was already working on a large bare tree and the visuals from this brief time really reinforced my idea for them as a new design element. I don't have enough dead wood in the line to compliment the live. With both elements, I think we can introduce a more full depiction of the natural world.

Photo from Cuyamaca Rancho State Park

---
June 2011 News
Hello fellow stampers. I hope if you had an extended Winter, that seemed to last through Spring, you're into some warmer temperatures. There seems to be some strange weather patterns these days. For Southern California we seemed to have one of the rainiest seasons that I can remember in a while as far as steady rain goes. It started in October and we had a storm come through as late as a couple weeks ago. It greened up the hills and kept them green for quite a while. It was nice to see all the wildflowers and blooming brush in the chapparal. The water level at one of our local lakes was as high as I've ever seen it and at another lake a suspended walking bridge over a small creek wasn't suspended any longer as the sediment from the run off from the hills filled up the creek clear up to the bottom of the bridge. From strictly a visual perspective, I've seen some amazing cloud formations with this kind of weather. It's always a challenge to try and depict what I'm seeing into pen and ink drawings especially when it comes to the atmosphere as things can tend to look "clunky" and not flowing and natural.

A good pen and ink drawing starts out with a pencil sketch/layout. Currently, I'm working on several designs with most of them in a very preliminary stage. It's kind of a visual brainstorming period for me. Designs are in the pencil stage and I'll start working out the values (light and shadow) in the next and after that I'll start the inking process along with the addition of textures.

Stamping wise, I've been inspired lately from some photos I've taken with an underwater camera of my son in his swim lessons. I've converted them into black and white and added a sepia tint to them on the computer and I like what I see. I've always been a fan of black and white artwork and photography and this has kind of re-energized that spirit. Also, years ago I had bought this book on the Florida Everglades that has photographs by this large format film photographer by the name of Clyde Butcher. His website is: http://www.clydebutcher.com/ A friend of mine mentioned him and the name sounded very familiar so I checked out his website and a lot of the images were ones that I remembered from that book. I looked him up on youtube.com and saw that there were several interviews and features on him and this fed into this reinvigoration of my love of the monochromatic. I need to get to some scenes for a scenic stamping exchange and I think I'm going to see what I can come up with in this spirit. I found it interesting what Butcher said about b/w photography. It was something like color photography being a representation of nature while b/w photos were an interpretation of it.

There's a lot of great scenic stamping instructors around the world and I've been trying to keep our "Live Workshops" area of the website up to date with that. Tonya Weakley --owner of the Peddlers Den in Illinois-- has been giving all day/in depth 8 hour mega workshops and she's taking it to another level with a full 3 day Stampscapes Stamping Retreat October 20-23. For information, check out their website at: http://www.creativedesign1.com/specevents.htm or http://www.peddlersden.com/. It sounds like quite an event.

Stampscapes has been represented by a few great clients at conventions around the world. You can check out information section to see the latest lineup of venues where they'll be.
---
September 2010 News
I just had the pleasure of watching the latest Stampscapes instructional tool in the form a new DVD by Janet Winkle called "Stampscapes Brayers and Beyond". Janet has produced an excellent video that covers all of the basics of scene building, blending, and composition and presents these with the vehicle of brayering and dye based ink/color application using Colorbox Stylus Tools. Janet presents the material in a performance indicative of a lot of experience in teaching and demonstrating the line and techniques. She covers what to do, how she thinks one should approach the their creations, what can come up --both desired and undesired-- and, if the later, what to do about it and how to prevent it. Everything is covered right down to the fine details. I would recommend this terrific production wholeheartedly. You can visit Janet Winkle website for more information at www.astampineveryhand.com.
---
January 2010 News
Is it actually 2010 now?! Aren't we supposed to be walking around in jump suits and taking vacations on the moon? Happy New Year to everyone. I hope you all had a pleasant holiday season. Our family had a nice time although we all seemed to catch almost every bug that was going around from Thanksgiving through New Years. However we've avoided the dreaded swine flu -knock on wood.

Just a quick update here. I was finally getting around to some updates on the site including this news section. I'm (Kevin N.) not signed up to do any shows personally this year yet but we have quite a few shows out there where we'll have some terrific clients, instructors, etc. representing the Stampscapes line. I will, however, be at the Craft Super Show this month demonstrating the line in the Stamping Details booth #871. For those that don't know what the Super Show is, it's an open-to-and-for-the-public retail craft show that is affiliated and/or run by the company that does the massive CHA -Craft and Hobby Association show each year. This will be the first time the Super Show has been in Southern California --Anaheim. I have no idea what to expect but I would imagine it will have everything under the sun --craft wise-- if it's anything close to resembling the range of products that you see at the CHA show. I will be demonstrating late on Friday and again on Saturday.

If anyone has ordered directly from us of late you'll notice the addition of quite a few sample/idea cards. I've been working on trying to put more scenes into this kind of format to send along for color/compositional/inspirational ideas. The scenes are by many different people and I'll continue to add new scenes to these offerings. I'm also including these with our wholesale orders in the hopes that the stores will give these out to their Stampscapes clients. Speaking of orders, my long time loyal and highly capable coworker Susana has been out for a few months now after having some complications arise after foot surgery. We're hoping that she heals in good time and is back with us. I've been running the show solo but I also work satellite from the office during the day and have been getting into the office twice per week to fill orders. Typically, orders have been going out on Mondays and Thursdays and this will be the pattern for the foreseeable future. We're trying to maintain a high level of service for our clients during this time.

As always, I would like to thank you all for your support of Stampscapes. It will be about 17 years since we sold the first Stampscapes brand stamp and I love my work just as much, if not more, today as I did all those years ago. I find that while spending a life in stamping, it's impossible to ever be bored or to lose interest in what I'm doing or looking forward to do.
---
August 2009 News
Hello, it's been so long since I updated this section that I'm going to have to try and remember everything that we've added to the site. One thing that we've done due to customer demand was to open up the Nature stamp set variations to pre-trimmed cling foam mounted versions. Some seemed to like not having to do their own mounting and trimming of the unmounted sheets of the Scenic Sentiment line that we had a lot of inquiries for the Nature Sets to be offered in the same way. The Nature sets are now offered in this closely trimmed, cling foam mounted version that come on that plastic storage sheet. We have a new Tree Pack UM set that can be seen in the "Stamps" section of the site. We had some surplus rubber of several images that could be grouped under a tree category so it seemed to make sense to offer them this way. We're blowing out these sets at a good price.

I just posted a Stampscapes check list online. I hope this comes in handy for people. We had an Excel spread sheet that an instructor in CT so generously allowed us to use for several years but we've had a lot of new stamps since then and needed an update. This check list is 8 pages and the stamps are listed numerically with a little thumbnail of each image to the side of the code. There are a couple links to this list on the site. The file is 51MB so the download can possibly take a couple minutes depending on your internet connection speed.

For all my fellow scenic stampers out there, don't miss that new Rubberstampmadness "Scenic Stamping Album" coming out before too long. I hadn't thought about it much but the latest RSM with that spread to advertise the upcoming album really piqued my interest. I think RSM has a special preview price for the book (rsmadness.com). I pre-purchased several copies of the book myself at that special price. I'm going to send them out to some of our clients that carry our line. RSM has really been a champion for scenic stampers for a while now and I hope everyone that enjoys this genre of rubber stamping will enjoy what they've created. I have no idea what it looks like but I'm anxious to see to say the least. The latest regular issue of RSM is packed full of scenes as well. Much more so than any other publication.

Product recall: Okay, this doesn't happen very often but we had a Nature plate recently that had a defect in the mould material. This was for Nature Sheet #6 "Lakeside Cabin". There was this little pock in the back of the mould that could have made a slight depression on one of the images. If you've had any problems with any of the images on this plate, let me know. We just had some new plates made for that, at the time, and one of the four moulds had this irregularity. The supplier that makes our rubber said that he's never seen that in 20 years and was on one of 4 plates. My distributor in Australia notified me on this and I'm not sure if any sheets went to anywhere else but there. Another product that we released for a weekend before a customer notified me was my own mistake. It was on a Scenic Sentiment sheet. On sheet #5, on one of the quotes, I had "depend" when it should have been "depending". After looking at those words and doing incremental spacing between letters pixel by pixel I guess I became blind and didn't even see that error. Anyway, I think about 10 of these sheets got away from us. Again, just drop me a note and we'll replace that quote for you. By the way, this goes for any of our products. If you have a problem with anything, just let me know.

We didn't do this past Carson, CA show or the Grapevine, TX show. I'm not sure if we'll do the next Carson, CA show or not in November. I've been trying to create some time to get to some big projects for Stampscapes such as some new designs and video lessons. The shows tend to take up about 2 weeks of time even though they're only one weekend for 2 days. Between travel, preparations, and the post show details, they really take up a lot of time. I love doing them though and traveling but thought that my time was better spent trying to get to these projects that many have been asking about. I think I think of a new subject to cover for a video everyday. I need to take advantage of film hosting services like youtube.com to get a lot of instructional videos up that will cover subjects that are so much more effectively explained in motion video form. I can't wait to get into those.
---
May 2009 News
05/13: I'v been a guest artist on the website Rubber Stamp Chat this past week. It's a question/answer forum and a lot of great questions were asked that I'll have to link to from this website. Check out the site if you have a chance. There's a lot of other great listings, posts, information, etc. on dozens of forums there and who doesn't enjoy chatting in a community of fellow rubber stampers?

We'll be at the Puyallup, WA convention this weekend. We'll be doing make-and-takes on both days.

The Scenic Sentiment sheets have been a blast to use on scenes or on cards. The latest Susana Cueto gallery has a lot of samples using the quotes in the Gallery section of the website.

March 2009 News
03/09: Stamper's Quest E-Zine has a nice lesson on their site using stamps from Stampscapes. Check it out if you have a chance: Michael's Basic Stampscapes Tutorial. We'll be attending the Carson, CA stamp convention this weekend. We'll have three make-and-take stations there off and on. If you attend the show, come on over and have some fun in the booth. Hopefully, we'll have some of the sentiments sheets by then.
---
February 2009 News
We're almost ready to go into production with the Scenic Sentiments quote sheets. 109 stamps spread out over seven 5.5" x 8.5" sheets.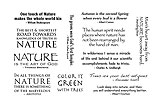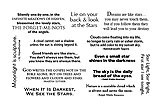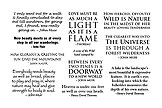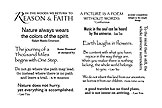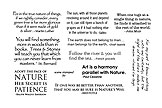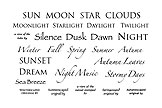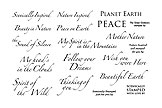 These stamps are being offered in sheet form to keep them as economical as possible but for those that would like a pre-cut static cling mounted version of the full sheets, we will have those available as well. We hope to have these available by early March.
It's time that I got our convention schedule, somewhat, figured out at least for the near future. For the month of March, Ken Pesho will have a Stampscapes booth at the Mesa AZ rubber stamp convention and we'll have a booth at the Carson CA convention. For those in the areas, we hope to see you there.
---
January 2009 News
Just a very quick news update here. I've been given the honor of being the Stamper of the Month on the online E-Zine http://stampersquest.com/. My article focuses on my ideas on lighting in scenic stamping and how to achieve it in a couple simple ways in step-by-step progressions. Also, on this same E-Zine, check out the excellent samples put together by their design team using some stamps from the Stampscapes line.
---
December 2008 News
Hello and happy holidays to you all! I hope this holiday season finds everyone happy and content. I was just taking a break from working on some updates to the website and thought I would put a few thoughts into this section. I was surprised to see that my last update was in September. It doesn't feel like it's been three months.

This scene here isn't a rubber stamped scene but a photograph that Ken Pesho emailed to me. He took it on a drive up to his property in the higher elevations in AZ. I thought I would post it here as a perfect example of the types of colors that are common in nature but not often thought of when thinking about it.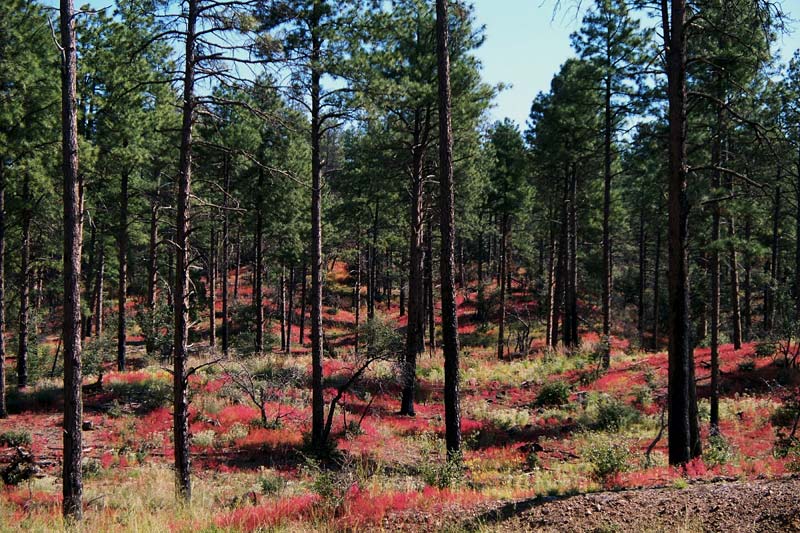 I'm not sure what color or plant that is but it's one that I often see repeated in nature. I see it in snow plants and in barrel cactus. How would we stamp this scene out and make it look natural? Probably be a challenge. After working on the composition with darkly colored tree trunks and ground, I would probably focus on brown tones with a pale pink added to the mix for the ground with isolated patches of greens. Then, I would use a red gel pen to add additional "punches" of that bright pinkish red color.


Product News: At this point in time, all of our stamps are available in UM form which has been an increasingly popular method of stamping for many. I started working on some new designs and was making some nice progress but we moved at the end of October and that stalled the process as everything went into boxes. I was working on wildlife and other designs. Another thing that I've gotten back to after taking a year off from them is the "Scenic Sayings" sheets. I worked on these things forever last year tweaking the fonts, spacing, etc. only to find out that Adobe Photoshop wasn't the program that I should have been using for that as the fonts were pixelated. The software is updated and I can print using another program. This time was actually a blessing as some of my dormant lettering and typography class lessons might be creeping back. I've probably changed 80% of the layouts from last year and they seem to change nightly. I'll get these into production as soon as I'm completely happy with what I see. There's about five 6" x 9" sheets full of quotes, verses, and words that should go nicely with our scenic stampings. Between these and the new images designs, that will be released at a later date in 2009, we should have quite a few new products. A new Idea Card Set 5 is now out as well. These cards are 5" x 7" and are a collection of some of my more involved compositions. On the reverse sides are my thoughts on what I believe were the main concepts of the pieces. We sell hard copy sets of these but all of the scenes and info are always on the site and can be viewed anytime.


These are a couple new online instructional videos by Sandy Hulsart (the artist you might be familiar with from the Stampscapes or her Picturetrail galleries, her blog, or as the author of the Yahoo group Stampscapes II). Speaking of videos, remember Ken Pesho's "Stampscapes Made Easy" DVD is out there that would make a great gift for scenic stampers or a great instructional video for any scenic stamping enthusiasts personal collection.

On a side note, I want to say that it's really been an honor to be included in the publications by US Art Quest "The Encyclopedia of Greeting Card Tools and Techniques" where I wrote an article on scenic stamping and in the current issue of the publication Scrap and Stamp Arts Magazine that has an article that I wrote on seamless compositional blending. They were fun projects to work on and to be included in.

Speaking of publications, if you're interested in a nice publication that always features a lot of scenic stamping scenes and articles, you might want to look into Rubberstampmadness if you're not already familiar with it. I'll have a link to them off our site very soon. They have always been a vital part of the medium of rubber stamping and is run by some really great people.

Thanks to all for your support in 2008. I love the medium of rubber stamps, the people involved in all aspects of the medium, and I certainly love what I do. It's been 21 years in rubber stamping for me at this point and I love it as much or more than I ever have. Warm wishes ~Kevin N.
---
September 2008 News
Hello, and thanks for visiting the news section of the site! Thought I would do an end-of-summer update here. I'm shocked that my last update was before summer. Always happens every year -- I blink and the summer is over.

It's been a busy few months for me and Stampscapes. We worked on setting up our upcoming Australian distributor with inventory to assemble their own stamps in Australia. It was a pretty significant endeavor in that we've always supplied finished stamps but this time we've supplied the rubber and labels only. The Stamp Trap will be supplying the wood and mounting material and doing the assembly there. Shipping prices have become outrageous lately and Australia was already one of the most expensive places to ship to so the fact that they won't have to pay for the shipping on hundreds of pounds of heavy maple mounts will mean a greater savings for them and, thus, the end user. The Stamp Trap is an experienced rubber stamp producer and quality is paramount to them so one won't need to worry about quality. We had back-to-back conventions in July which was interesting. I usually don't schedule that way but I think the Grapevine, TX show was moved up a week for some reason. As always, I would like to thank everyone that dropped by the booth at the shows. The travel and set up grind of conventions is always tough but it's sure fun actually doing the shows and sitting and stamping with everyone at the make-and-take tables. Doesn't matter if it's someone that's well versed in the scenic stamping genre or someone that's never done scenic stamping --it's always fun.

Product update: We're really closing in on having the entire line available in unmounted form. There's about 3-5 stamps that aren't configured well on plates --in that we don't have enough of them-- that makes it difficult to add the UM option right now but I'll get new plates for those images before too long. Website update: The main thing I've been working on is trying to add more cross links from the stamp modules back to examples that utilize them in both my and other stampers galleries.

To close out the summer I had as great a time, stamping-wise, as I could have hoped for. I attended a scenic-stamping retreat in Chicago towards the end of August. Several scenic stampers --many from the Yahoo Stampscapes, Stampscapes II, and Scenic Stampers groups attended. From Thursday-Saturday night it was non stop stamping except for when we were taking a food break. I didn't get in until 5am on Friday morning and missed the Thursday afternoon and night session (which was a mistake as I should have just taken an earlier flight). To be able to stamp and learn from others in such a relaxing and creative environment was truly enjoyable. I've posted the scenes that I did while out there in the Gallery section under the Nakagawa Misc III gallery. The demonstrations were very informative and informal. We would just periodically crowd around someone at different times to check out different media and techniques as they were doing it. I learned a lot from the demonstrations and also from just walking around the tables and observing and asking quesitons as everyone worked. There's a lot of media that I'm not aware of in this industry that I was filled in on and came out of the weekend with a lot of new ideas. Karen Wallace was our leader and organized everything.
---
June 2008 News
We have been adding yet more unmounted stamp options to the line every week. I'm not sure where we're at but we'll keep at it until we get the entire line available in that format. New color inserts are being designed and printed for the Symmetry UM Sheets which include a lot of the samples that can be found in the galleries and lessons section.

I would like to thank everyone that dropped by the booths at the Akron, OH and the Puyallup, WA show. We had a fun time at both of those shows meeting and, with those that did the make-and-take, stamping with you. Also, thanks to those that visited Pretty In Ink running the Stampscapes booth at the MN Stamp and Scrap show. I had a great time at the demonstration at Art N' Soul in Olympia, WA before the Puyallup show. Thanks to all that made it to that.

Updates have been made to the Gallery section. A very long time in between those for me. I've been so busy that they had really backed up. Still some more to go such as the ones I'll need to scan myself but most of the email submissions are up.

Pretty soon we should have a new distributor in Australia. More news on that later.
---
April 2008 News


Four new sets of scenes have been released. As mentioned below in the Feb 2008 News, these sets are complete scenes and great for the new scenic stamper or those that don't have certain elements included with the sets. They're all available in unmounted sheet sets that come either with or w/o static cling foam and plastic sheet holders.

We've been slowly adding more unmounted options for our entire line each week. If a stamp is available in an UM version, there will be a note towards the bottom of the stamp modules.

The convention schedule is almost set for the year. We might be adding one or two more shows but the schedule above is most likely our final schedule.

I've been bolstering up the website here and there but haven't done my most common updates in a while which is to the gallery section. The Lessons section has been updated with a few new lessons. Some of them are from the inserts that we put into the new unmounted sheet products. These inserts have several scenes and examples of how the images in the sets can be used. On a few of those scenes, I broke them down into either before-and-after or step-by-step lessons. Another area of the site that I've updated is the Live Workshops area. We haven't always known when workshops were being offered around the world but I did a search on the web and found quite a few "classes" sections on various sites of clients that are offering Stampscapes classes. I'll be getting to those gallery updates pretty soon though.

For fans of Stampbord, keep in mind that Ampersand has discontinued all round and oval shapes. I don't know if they'll make them again in the future but I'm guessing that won't happen for a long time. The cost of cutting out these pieces was just too high and they couldn't find a economical method of doing them. We bought out Ampersands remaining stock of these shapes but they won't last forever.
---
February 2008 News


We're just putting together the convention schedule for the year. The dates above are all firm except for the Heirloom conventions. We've applied for them but will see if they're already filled. Ken Pesho will be running Stampscapes booths in AZ and NM and Pen Ventures runs the Stampscapes booth in MA.

Four new unmounted sets will be released shortly based around the reduced size images mentioned in my previous news blurb below. These sets are groupings of existing designs and are particularly good for those that are new to Stampscapes and wondering where to start. These sets will have main elements, filler stamps, subject matter, and a sky figure. I have color inserts for these sets with a variety of compositions stamped out with the elements that are included. Also, for those that use the acrylic block/static cling sheets style of stamping, we will include a sheet of the static cling sheet and a plastic sheet holder.

If anyone has tried to email me and didn't receive a response, I was having severe SPAM problems for a period of time until I figured out how to better filter the numbers. Currently, we must be getting 10,000 emails/day and 9,970 are usually junk/SPAM. It was crazy. Anyway, we're usually pretty good about getting back with people so if you've asked a question, submitted a scene for the gallery and if you didn't hear anything back, try again now. I haven't updated the site and site gallery in a while but those updates are coming.

I won't bore you with mentioning all the other things that I've been working on in detail but, in general, I've been trying to work on more printed materials. I've often been asked if we had various scenes in printed form and not just on the internet so I'm finally getting some of those types of things done. With all of these layouts and informational copy that I've been doing I decided to take a look into four color printing for a book project and I think the time is right to start working on something like this. It would be a Stampscaping-101-the-book version. 4 color printing with all the color separations, the production runs, costs, etc. used to make something like this out of the question but with digital printing these days it's so much easier for the kind of runs that we would be doing.

Anyway, I hope this note finds everyone well and that you're all finding time for some form of creative expression in your busy lives. Best wishes ~Kevin
---
November 2007 News
Hello Stampscapers,


I Hope this letter finds everyone up to their ears in ink, rubber, and paper having a great time.

Some quick notes here. We just relesed some old familiar stamps in reduced sizes in unmounted form. We used to do multiple sizes more often but stopped doing that for a while. We had so many requests for these five designs in particular that we just decided to go ahead and finally do it. I'm uncertain whether we will follow up and make them into full mounted stamps sometime in the future. http://stampscapes.com/catalogset.html

The three mounted stamp sets will soon be available in UM sheets including one additional one.
---
| | |
| --- | --- |
| | Ken Pesho of AZ stamping/instructing, Stampscapes gallery, and Stampscapes Yahoo Group fame, has created his DVD "Stampscapes Made Easy". The video is a well produced vehicle for learning all the basics in scenic stamping. Pesho presents his method and techniques in a seamless performance and leaves no questions unanswered. Good teaching lies in the details and this video doesn't forget them each step of the way in the creation of the scene. Pesho has been teaching on a regular basis for many years and knows all questions students have and presents his points in easy to understand manner. The media for his DVD piece is glossy paper and dye based inks --the combination that is used on much of the scenes on the website, lessons section, and gallery. I highly recommended instructional tool. |
---
Ria Vaneman of Home Impressions, the distributor of Stampscapes in The Netherlands, has also made a video. Ria has been a long time retailer and instructor of the Stampscapes line teaches how to use the Tonal Applicator. Ria is also the owner/creator of the Stampscapes Yahoo.com group. Click on the DVD for information.

This is a dutch site. To translate the text you can go to: http://babelfish.altavista.com/ Then enter the address of: www.stampscapes.nl/nl/dept_10.html and then select your language such as "Dutch to English".
---
Has anyone heard of the Copic brand of alcohol ink markers and airbrush system? I hadn't until I talked with Kellie Fortin and she directed me to her blog and lesson using Stampscapes and this system. You can see this in our lessons section. http://stampscapes.com/lessonset.html. Additional new lessons are up in the same section along with the Stampbord lessons.

The Yahoo Group stampers have two sets of 18 cards that will be out very soon. The first set is on the way consolidated and bagged and the second set has arrived from the printer and we'll be consolidating those this next week. 36 cards in total, diverse, well executed, and really nice references for any scenic stamper. We'll note when they're available on the site.

If you're in the San Diego area and free next week on the 17th, I'll be doing a demonstration over at The Stamp Addict at 6pm. 7151 El Cajon Bl. #K. San Diego CA 92115. (619) 667-5060. I'll be demonstrating as many techniques as I can get through in a few hours.

For all you scenic stampers out there, don't forget to submit your scenes to Rubberstampmadness for their book on scenic stamping. I think the deadline is Nov. 1. www.rsmadness.com

Best wishes ~Kevin Nakagawa