Jolene Johnston


Jolene has been a rubber stamper since 1996 when she discovered Stampscapes. Since then she has added scrapbooking to her crafting resume and has taught at Michael's Arts & Crafts and Scrapbook Corner in the Indianapolis area. Her crafting work has been published in a number of online magazines and will be featured in the Rubber Stamper magazine in the summer of 2007.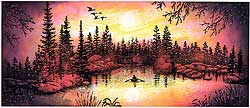 ---
Scrapbook Corner
17055 Mercantile Blvd.
Noblesville, IN 46060
(317) 770-3600
www.scrapbookcorner.us

---
Johnston Classes:
"Cards/tags"
"Scrapbook pages"
"Watercolor Techniques"
"Heavenly Bodies" -Looking for a unique stamping technique to wow everyone with? Join Jolene as she creates amazing scenes using the Stampscapes line of rubber stamps. She will walk you through each technique as you recreate her amazing original pieces. You will complete a Valentine project and a celestial project in this class. Due to the nature of the projects made we are not able to make kits if you miss this class. Please be sure to cancel three days prior to the class or you will forfeit your class fee.
"Stampscapes: Ink Techniques" -Try using the Stampscapes line of rubber stamps to create amazing and realistic scenery on cards, tags and scrapbook pages. We will cover the "landscaping" basics and using alcohol inks in this session.