Kathy Sargent


I, Kathy Sargent, have been stamping since 1993. I've been experimenting with different mediums for several of those years and decided that I would like to share my experiments with anyone who was interested, so I opened a stamping store in Clarkston Washington. We offer three different classes for Stampscapes.

---
CLASSES AND DESCRIPTIONS:

Introduction to Stampscapes: This class introduces our students to the concept of Stampscapes and the Tonal Applicator.

Stampscapes Class 2: This class introduces our students to using color. Not only on the rubber stamps but also an introduction to using colored paper for their presentation.

Stampbords: This class introduces our students to stampbords, and the incorporation of this art form to card making.

I am also going to be starting a monthly club designed for those who addicted to Stampscapes. We will gather once a month in my store and show off our creations and share some of our experiments and techniques.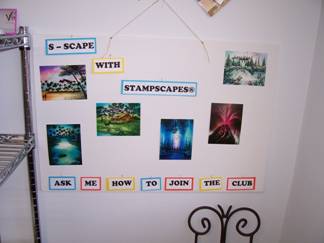 ---
K'S Cards and Paper
917 6th street
Clarkston, Wa 99403
(509) 758-3224