Lis Whiting

I have been crafting for about 35 years (don't get the wrong impression, I am a young 50 yr old!). I have always loved paper and creating anything and everything with it. I got into rubber stamping about 4 years ago?? And now I'M HOOKED!! I took 3 classes in Stampscapes at the Enchanted Cottage with Mitzi. That's where I was first introduced to Stampscapes and the Tonal Applicator. I am entranced by the stamps. I love nature and these stamps remind me of where I grew up in upstate New York. All those rocky streams and woods that I used to wander as a child....I love that area. And I love your stamps. I work a variety of techniques including most of the ones that have come over from the Netherlands (spirelli, papuela, iris, tea bag, lace, incire, etc etc). I also do pergamano/parchmetn craft....basically anything having to do with paper! I am a design team member of the Stampers Mall.com for out of the Box Cards and Leighs Altered World of Game Pieces. I love to learn new techniques in other crafts and use them as crossovers to my paper crafts (even cake decorating and papercraft techniques can be used together!).
---
Class Descriptions:

Traditional Stampscapes: This class is designed to provide an introduction to Stampscapes, constructing a scene using these wonderful stamps and using the Tonal Applicator. At the end of the class you will have two cards to take home. (two hours)

Stampscapes in Color: In this class we explore several ways of applying color to a stamped scene. We will practice using the Tonal Applicator, stippling, painting with colorwash, adding gold accents and using dye inks to colorblock. (two hours)

Stampscapes Techniques: Applicators
In this class we will review different methods for applying various colors to a Stampscapes scene: Tonal Applicator, Colorbox Stylus Tool and q-tip. We will experiment with clouds, mists and rays added to a picture.

Stampscapes Techniques: Color
In this class we will talk specifically about color choices, layering color, and using shades and tones of colors to add to the three-dimesional effect of our Stampscapes.

Stampscapes in the Clouds!
In this class we will focus on clouds, mists, and stars and creating that glow! We will learn how to use the Colorbox applicator and also use Q-Tips to add mist to our Stampscapes. Please bring your Tonal Applicators.

Sky Effects for Stampscapes
In this 2 hour class, we will focus on several background techniques. The first 5-10 minutes will be spent on a short review of constructing landscapes, using transparencies and color choices. The rest of the class will be spent learning the principles and creating variegated backgrounds, fogs, mists and clouds, and sky effects like aurora borealis and stars. This is an intermediate to advanced class.

Stampscapes: Sky Effects II-Get the Glow!
This class has been created to add techniques and build on what was learned from the Sky Effects I Class. (You don't have to take Part I in order to take Part II.)

Get the Glow! In this class we specifically practice more on using white pigment ink to stamped scenes, creating mist and glowing effects.Ê You will use the Aurora Borealis Rays and the Tonal Applicator (Rays) to create stunning imagery. We will continue to talk about composition, color choice, tones & shades, and perspective; adding to your knowledge. We will be doing some color stamping (DTS) also. If time allows, we will create a great scene with rocks!Ê

Stampscapes in Miniature
In this class we break with tradition and create Stampscapes scenes using punch and die shapes (including a vase, an art doll and a surprise!) to create beautiful cards. We will enhance our creations with gold accents, ribbons & embellishments. Join us for Stampscapes off the beaten path!


Requirement: In order to sign up for this class, you must have had Stampscapes for Beginners or another class where you learned the Stampscapes method.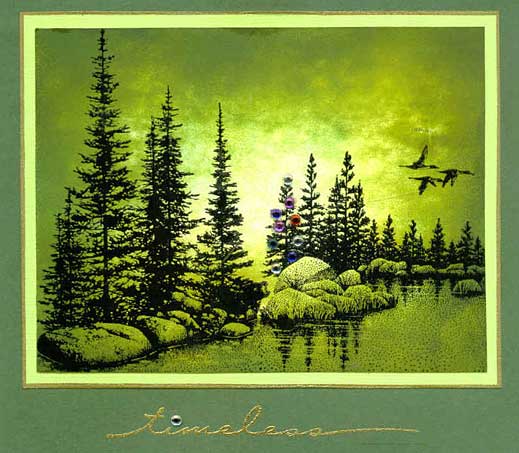 ---
EMAIL Lis