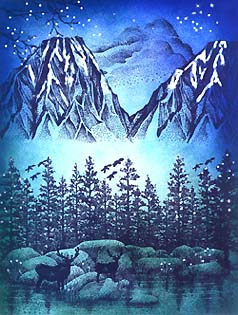 "Blue Elks" by Ida Cotter, WA 1999
Images: Island Mountain 099E, Crooked Limb 097E, Lakeside Reflections Lg 051G, Buck 008A, Buck lg 009B, Ducks in Formation lg 028A, Cloud w/Crescent Moon Lg. 202G. Color application with the Tonal Applicator 084E.
Note: Elks almost blend in with the rocky shoreline giving them camouflage in the light of night.