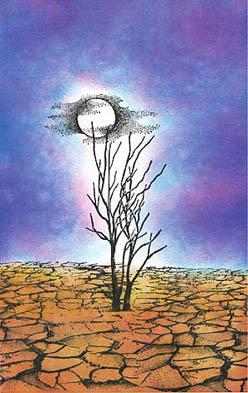 "Desert Limbs" by Kylie Gray, 2000
Images: Cloudy Moon by A Stamp in the Hand Co. Cracked Earth 181G, Leafless limbs lg 053F, by Stampscapes®. Color application with the Tonal Applicator.
Artists Notes: One lone leafless tree seemed just the right thing in the middle of a cracked and desolate plane. I kept the colors light and staggered, not wanting any deep, warm color to cover such a cold barren place.