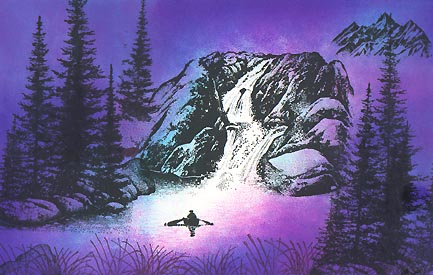 "Brooks Falls" by Kylie Gray, OR 2000
Images: Brooks Falls184G, Pines & Rocks 195G, Rocky Peaks sm 211C, Buck 008A, Row Boat 166A, Rock (2) 130A, Grass Cluster 128D. Color Application with the Tonal Applicator 084E.
Artists Notes: At first glance you can tell this image is from online Stampscapes 101. I just loved the scene though and using the King James glossy paper (advice from Kevin), I was finally able to achieve the deep blues and purples that I envied in his artwork at the stamp store. I love the purples created with blues and pinks.