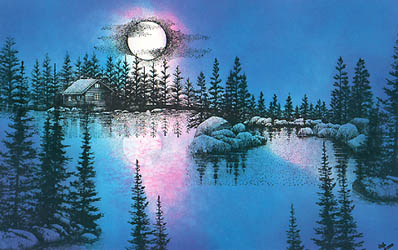 "Lakeside Cabin" by Kylie Gray, OR 2000
Images: Cloudy Moon - by A Stamp in the Hand Co. Pines & Rocks 195G, Pine 196F, Lakeside Cabin 147F, Lakeside Cove lg 049G, Cabin w/Fence 144F (far left side). Color Application with the Tonal Applicator.
Artists Notes: This is the second deep blue night sky I created. The first was given to a wonderful gentleman from Victoria, who I met during a stamping retreat in Washington State. I never knew the pride it could create in oneself to have someone ask for your artwork. I have also created one as an 8.5x11. My goal is to move up to an 11x17 canvas. Most of the scene is in blues, but I still brought in the old reliable Rose Marie around the tree areas to offer shadows and darkness. Maybe someday, I'll learn to make stars...