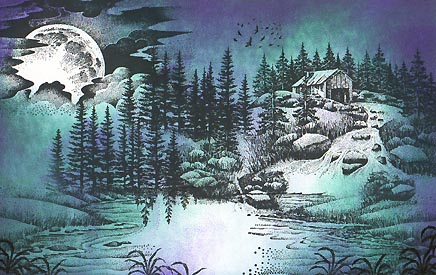 "Mills Creek" by Kylie Gray, OR 2000
Images: Old Mill lg 063G, Pine Row 150E, Plant 101A, Flock 112A, Cloud w/Rising Moon lg 198G. Color Application with the Tonal Applicator 084E.
Artists Notes: The green was simply to give myself a change of color. I love the sound of this stamp. You can hear the water running over the rocks and down into the pool. I layered the pine row stamp and was very happy with the outcome. What's so great about these stamps is that you can leave a space completely blank (over on the left) and your mind fills it in for you. Again, couldn't live without some purple in my life so you'll find a touch here and a touch there. I really have to go buy some more Marvy colors*.