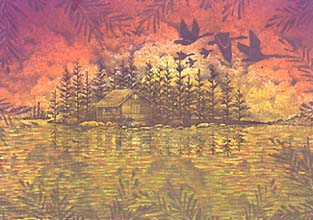 "Autumn Lake" by Paula Huiras, MN 1998

Images: Ducks in Flight and Foreground Leaf by companies unknown. Cloud Cumulus 018E, Lakeside Cabin 147F, Water Pattern 092E, color application with the Tonal Applicator 084E.
Note: This card was submitted for the Stampscapes® Drawing. Nice composition here. A subtle effect here that I like is the Clouds and how they were stamped not only in the sky but in the water as well. This creats a nice texture and contrast that enhances the Water Pattern.