This interview was done with Sandi Marr in March 2000 by Kevin Nakagawa via email.
The gallery is my favorite part of this web site. All of the scenes, so many contributing stampers, different media, compositions, etc. make it a dynamic virtual environment. Many have an idea that Stampscapes® is a method of stamping "technique" --or look-- as opposed to a line of interlocking designs that can be used with whatever media you want. Often, when someone has this idea, I'll send them to the gallery section to browse the individual galleries. I'll also be sure and tell them to visit different artists including Sandi Marr. In Sandi's galleries one can see no less than six different mediums utilized with Stampscapes® to achieve very different looks that are all fantastic. In these galleries one can see the ever experimenting and searching spirit of creativity of the artist that is Sandi Marr. I'd like to thank her for doing the interview.
KN: Sandi, how and when did you get into rubber stamping?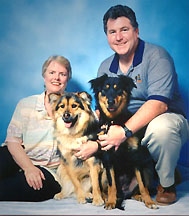 SM: I got into stamping about 9 years ago when I went to a home party at a friend's home. The demonstrator showed us embossing and explained how we could save money by making our own cards. I decided this must be a very good idea, little did I know what was to come!
KN: What is it about the medium that you like and what about it keeps your interest?
SM: The thing that keeps my interest in stamping is that it is constantly changing. New products are added and techniques are discovered and shared through classes and publications and on the internet. It is never boring, there is always something new to try. I like to get my hands into my work, I don't care if I have ink all over them and I generally do! I like to feel what I am doing and not worry about getting messy.
KN: Are there any other arts or crafts that you either have done or do currently?
SM: Nothing else currently, but in the past I have done macrame, and ceramics.
KN: In your gallery you've used about eight different mediums to create these separate cards with terrific and wide ranging results. Experimentation would appear to be a big part of your body of work. Tell me about your views on the available media and new products that are always coming out.
SM: I love to experiment with products, first follow the directions and then go from there. I enjoy finding several different ways to use a product or stamp. With Stampscapes® images they lend themselves to so many different mediums that the possibilities are endless. The use of the tonal applicator is just one way, but watercolors are absolutely wonderful on these images. Chalks are fantastic and Radiant Pearls have to be my favorite. Bright vivid blended colors, brilliant sunsets and sunrises and shimmering water are so easy with Radiant Pearls. We are so fortunate to have so many wonderful publications available to us to show pictures and explain the use of products. I think this is one of the things I love best about stamping is the willingness of people to share what they have learned.



KN: Looking back on when you first started stamping to now I'd be curious to hear your view on the path of your work. What were your visual esthetics then and what are they now? Have they changed? What do you look for in your work, medium, etc. now? Has your "eye" changed?
SM: When I first began stamping it was embossing flowers or other images on white paper and coloring in with watercolor pens. That has definitely changed. I have always loved color and texture so I wanted more than just this . I began adding layers of colored paper behind the cards, then found speciality papers and began using those. Now things are layered, cut out, maybe embossed with UTEE and have beads and fibers on them and are way more than a simple card. My eye has changed with all the available products we have to use. I want the card to pop out and catch the eye. I want the person receiving it to look at it and wonder how it was done or be inspired to try the technique.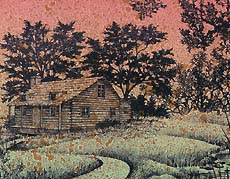 KN: What direction are you taking in your work now? Is it moving in a general direction that you can see?
SM: Yes, my work has moved in a much more artsy direction. Again, this is the result of the available products and publications and experimenting. There are some wonderful online lists with incredibly talented artists that participate and share. There is so much to learn, it never ends.
KN: You're an instructor as well. What are and have been the classes in your repertoire?
SM: When I first began teaching it seemed that people wanted to learn construction cards. I still love doing them, I like to see things "work". Now it seems that people are more technique oriented and want to know what to do with all the products that are out there. So my teaching has changed to include more technique in the cards made. I like to show people different ways to use the same product or line of images. If there is only one way to use a stamp or a product you will get bored with it very quickly.
KN Note: Something that Sandi has also done is take her knowledge and passion for art to troubled teens. Her tales of the changing of attitudes from the beginning of a workshop to the end and the sparks of enthusiasm brought about by the sharing of art are truly uplifting. One of the unique things about rubber stamping that's so great is that it's a medium which is perfectly suited to sharing and community and it seems to attract many of those who are of this nature. I'd like to thank Sandi for sharing her work with us in the gallery, for sharing her knowledge with others, with Stampscapes® -for sharing the techniques and continually pushing the limits/possibilities into wonderful areas, and last but not least for sharing her thoughts with us in this interview. Thanks for everything Sandi!
Sandi Marr can be reached via email at rubbereyes@earthlink.net
Sandi has her own web page at http://home.earthlink.net/~rubbereyes